Florida Gov. DeSantis Sued for 'Fraudulent and Illegal Scheme' Against Immigrants
Attorneys representing a group of immigrants filed a class-action lawsuit against Florida Gov. Ron DeSantis (R) on September 20 2022, accusing him of organizing their wrongful transport from Texas to Martha's Vineyard.
The group Lawyers for Civil Rights announced the lawsuit just after DeSantis attempted to minimize and distance himself from the scheme, which received attention, mostly negative, from all over the United States — especially after the allegation that agents for the federal Department of Homeland Security (DHS) planted fake addresses at least one group of immigrants from Venezuela.
According to the lawsuit, DeSantis and state Secretary of Transportation Jared Perdue "designed and executed a premeditated, fraudulent, and illegal scheme centered on exploiting this vulnerability for the sole purpose of advancing their own personal, financial and political interests."
The lawsuit was also announced less than a day after Bexar County Sheriff Javier Salazar — whose jurisdiction includes San Antonio, where the immigrants were located and enticed to board the flight to Massachusetts — announced his own investigation into DeSantis' actions.
"They were promised a solution to several of their problems," Salazar said. "They were taken to Martha's Vineyard, from what we can gather, for little more than a photo op, video op, and then they were unceremoniously stranded in Martha's Vineyard."
The lawsuit lists five unidentified "Doe Defendants" as being part of DeSantis' plan. Previous accounts from the immigrants, Venezuelan nationals seeking asylum in the United States, taken to Martha's Vineyard mentioned a female operative identifying herself as "Perla." She was later identified as Perla Huerta, a former U.S. Army counterintelligence operative.
According to the lawsuit:
The Doe Defendants provided items such as $10 McDonalds gift certificates to class members suffering from chronic food insecurity. After luring Plaintiffs by exploiting their most basic needs, the Doe Defendants then made false promises and false representations that if [the immigrants] were willing to board airplanes to other states, they would receive employment, housing, educational opportunities, and other like assistance upon their arrival. Next, the Defendants put [the immigrants] up for free in hotels, sequestered away from the migrant center, and from the possibility of actual good Samaritans finding out how [the immigrants] were being abused.
As The Daily Beast reported, DeSantis attempted to minimize his involvement in an appearance on the right-wing Fox News channel while also misrepresenting the "aid" offered to the immigrants.
"They all signed consent forms to go," the governor said. "And then the vendor that is doing this for Florida provided them with a packet that had a map of Martha's Vineyard. It had the numbers for different services on Martha's Vineyard. And then it had numbers for the overall agencies in Massachusetts that handle things involving immigration and refugees."
In reality, an attorney with Lawyers for Civil Rights has already produced a crudely-made brochure reportedly given to people, falsely offering benefits including assistance with job-seeking and training as well as "transportation" to interviews and "eight months cash assistance" that are reportedly only available under specific circumstances to refugees referred into the United States by the United Nations High Commissioner for Refugees: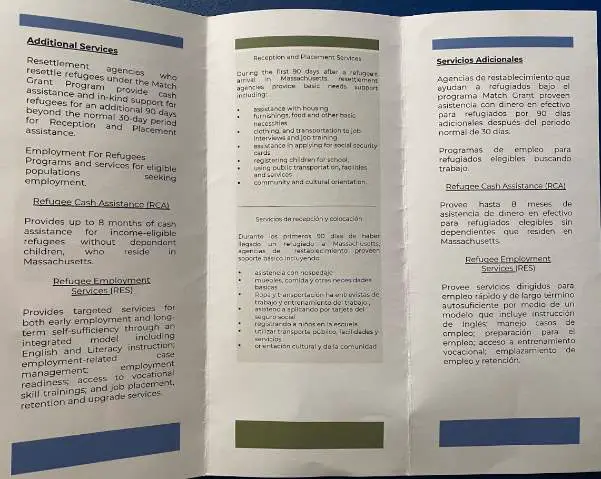 DHS has yet to respond to our request for comment on accusations that their agents were involved in falsifying addresses for the immigrants.
Washington Post columnist Greg Sargent reported on October 3 2022 that attorneys for the stranded asylum-seekers will also seek to name Huerta as a defendant in their lawsuit.
According to one of their lawyers, Oren Sellstrom, this will include attempting to depose her under oath to explain her role in what the New York Times referred to as a "covert operation" to deceive the group.
"What exact instructions were given to Perla and others?" Sellstrom said to Sargent. "Who put her up to it?"
The Miami Herald reported in October 2022 that Salazar's office has moved to ensure that the Venezuelan migrants group is eligible to apply for "U visas," which would prevent them from being deported from the U.S. because they are "victims of certain crimes who have suffered mental or physical abuse and are helpful to law enforcement or government officials in the investigation or prosecution of criminal activity."
The visas would remain in effect while the investigation is ongoing, which could take years. But attorney Rachel Self, who is part of a group of attorneys representing the group, said it is no quick fix.
"While the application is pending, the applicant can receive work authorization, but there is no guarantee as to when it will be granted," Self told the Herald "This is not a process anyone goes through for a quick fix. … It is a process we want people to undertake because they are essential witnesses in a criminal investigation — because helping law enforcement is the right thing to do."
Salazar is reportedly investigating whether DeSantis' shuttling operation was an example of "unlawful restraint," a Class A misdemeanor in Texas unless the victim is under 17 years old.
Update 10/3/2022: Updated to reflect the identification of Perla Huerta as a party to the operation, and her possible addition to the lawsuit as a defendant. — ag
Update 10/19/2022, 9:40 a.m. PST: Updated to reflect the ongoing investigation against Florida Gov. Ron DeSantis and the possible visa eligibility of the Venezuelan migrant group as that probe continues. — ag