"Rudolph the Red Nosed Reindeer" Was Written To Comfort a Grieving Daughter –Fiction!

Summary of eRumor:
Claims that Rudolf the Red Nosed Reindeer was created by Robert L. May to comfort his grieving daughter who had lost her mother to cancer.
The Truth: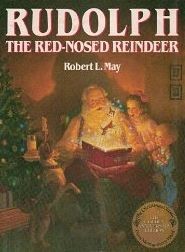 There is some truth to the story, Robert L. May wrote the Christmas poem "Rudolph the Red Nosed Reindeer" in 1939.  We have researched dozens of sources which include interviews with May himself and his children and there is never a mention that he did this for comforting his child from the death of her mother.
Robert L. May worked as a catalog advertising copywriter for Montgomery Wards & Company when the company, recognizing his skills in poetry,  asked him for ideas on a booklet of illustrated poems as a promotional give away.
May's wife, Evelyn, died of cancer in July of 1939, according to his account in a December 22, 1975 Gettysburg Times article.  This is one year later from the account of the eRumor.
May also had a daughter, name Barbara, and according to a Paul Harvey Rest of the Story article she was recruited to help in development of the story to make sure Rudolf  would appeal to children.  May would read to her his verses and if she inquired about the meaning of any words he would simplify the vocabulary.
May pitched his story to Montgomery Wards executives about the ugly duckling reindeer with three possible names.  The company turned down the idea and asked May to return with a second draft.  When May came back with his improved story that included sketches by an illustrator the company executive accepted it, named the red nosed reindeer Rudolf and the rest is history. The stores distributed 2,400,000 copies of the booklet during the 1939 and 1946 Christmas season promotions.  The year 1946 proved to be such a financial success for the company that the executives awarded May with the copyrights of his popular Christmas story.
This eRumor may have been sparked by a story in the book "Stories Behind the Best-Loved Songs of Christmas" by Ace Collins that said May created the character of Rudolf to bring hope and comfort to his grieving daughter, Barbara, after the death of his wife.  Collins told TruthOrFiction.Com that his source for this version of the story came from someone working in the Montgomery Wards & Co. public relations department.
The story of Rudolph The Red Nosed Reindeer has been released world wide in twenty-five languages.
In 1949 Johnny Marks, May's brother-in-law, adapted the story to music and Rudolph The Red Nosed Reindeer was immortalized by singing cowboy star, Gene Autry.  Over two million copies of the recording sold.
updated 12-22-10