Rush Limbaugh Goes Obscene Over Jameis Winston-Fiction!
Rush Limbaugh Goes Obscene Over Jameis Winston-Fiction!
Summary of eRumor:
This is a forwarded email about a conversation between talk radio host Rush Limbaugh and a caller about Florida State University's suspension of Jameis L. Winston during the first half of the game against Clemson. Winston received the suspension for standing up on a table on campus and yelling an obscene phrase. The email alleged that Limbaugh used vulgar and inappropriate language in his comments about the athlete who plays baseball and football for the Florida State University Seminoles. Some versions of the email appealed to the reader to sign a petition for advertisers to drop the radio program.
The Truth: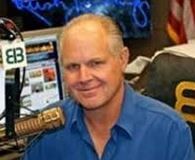 Rush Limbaugh did make comments about Jameis Winston's half-game suspension, but he said nothing obscene or inappropriate. The dialog in the email is not what actually was said on the Rush Limbaugh program, according to the transcript published on Limbaugh's
website
. Limbaugh has been known for using sarcasm in his remarks and opinions. The account of Winston's suspension is real, according to a September 17, 2014, article by
USA Today
.  The article said that the athlete met with members of the press to offer a public apology. According to a September 23, 2014,
article
by ESPN, Winston's suspension was "extended to the entire game Friday night after he misled the administration." On September 19, 2014,
Politico.com
released an article that said The Democratic Congressional Campaign Committee sent the Limbaugh conversation to their subscriber base and "appeared to be fundraising off the serious problem of sexual abuse." Below is the transcript of the conversation on the Rush Limbaugh program:
BEGIN TRANSCRIPT
RUSH: Here's Aaron in Bradenton, Florida. Hi, Aaron. It's great to have you up first today on the EIB Network. Welcome.
CALLER: Hey, Rush! I appreciate you taking my call.
RUSH: You bet, sir.
CALLER: Long-term listener. I heard you talk about Jameis a little bit ago and you said that he's probably gonna get a standing ovation. I hope not. I'd be surprised. I'm an alumni, alumnus, as well as my wife and my family, and we're all heading to the game this weekend. We're pretty embarrassed. In fact, we're upset about it. You know, we're to the point now where we just kind of want the guy to go away.
RUSH: (chuckles) Well...
CALLER: I spoke with a bunch of fraternity brothers as well, and we all kind of agree, you know, he's a risk anymore.
RUSH: Do you think he's gonna go away? Do you think they're gonna get rid of him? Do you think they'll bench him? Do you think they'll suspend him?
CALLER: Nah.
RUSH: Nah.
CALLER: Nah, he'll probably stay around.
RUSH: It's the student body. Whatever percentage of the attends at an FSU game is student body, that's who's gonna give 'em a standing O. The kids.
CALLER: Probably. I wouldn't be surprised at that at all.
RUSH: Yeah, that's what it's about.
CALLER: But as far as --
RUSH: I don't think the adults will. Some of them may not have even heard what happened yet.
CALLER: I hope they have. (chuckles)
RUSH: But the kids, the students? Oh, man, they're gonna dig it! They're gonna think that it's a rallying thing here. "Hey, our QB got up on a table in the student union and started talking about..." and they're just gonna think it's something to celebrate. They'll give 'em a standing O, and especially because he was suspended for the first half! They'll welcome him back. They'll get the band off the field.
The band may even form the shape of male genitalia to welcome him back for the second half.
END TRANSCRIPT
Posted 09/23/14
---
A real example of the eRumor as it has appeared on the Internet:
Did you hear about this? On his popular talk radio show, Rush Limbaugh took to the airwaves to proclaim that Florida State University football star and accused rapist Jameis Winston should "expect a standing ovation" for standing up on a campus table and shouting "F*ck her right in the p*ssy!" to passerby.

Enough is enough. No legitimate brand should be allowed to bankroll Limbaugh's disgusting mockery of rape and face no consequences. That's why I signed this petition to advertisers like Holiday Inn and ProActiv calling on them to drop the Rush Limbaugh show immediately.

Can you add your name, too?

[link removed by truthorfiction.com]

Thanks!