A popular right-wing disinformation trope from the United States targeting LGBTQ teenagers has been re-laundered into political circles in the UK — and all based on a purportedly recorded argument.
As the progressive Byline Times and other UK outlets have reported, the question of "students identifying as cats" began with a story in the Telegraph newspaper on a recording attributed to unidentified students and a teacher at Rye College that was posted online.
Fact Check
Claim: Students Identifying as Cats
Description: The claim implies the existence of students who identify themselves as cats, which has been depicted in British Media.
In the recording, one of the students accuses a classmate of wanting "to identify as a cat," saying that would make them "genuinely unwell – crazy."
"Where did you get this idea from that there are only two genders?" the teacher responds. "It is not an opinion."
During the discussion the teacher also says, "There is transgender; there is agender — people who don't believe they have a gender at all." The student replies saying they disagree with that idea and adds, "If you have a vagina you're a girl and if you have a penis you're a boy – that's it."
"But cisgender is not necessarily the way to be," the teacher replies. "You're talking about the fact that cisgender is the norm, that you identify with the gender, the sexual organ that you were born with, that's basically what you're saying, which is really despicable."
There is no evidence in the original recording, as reported by The Telegraph, that any student actually identified as "a cat" — only one of the anonymous students claiming that one did. Regardless, right-wing news outlets around Britain quickly seized on that, while also pillorying the teacher for calling their argument "despicable."
Among the media organizations which promulgated this fully debunked claim were the Daily Mail tabloid as well as broadcaster GBNews, where presenter Michelle Dewberry appeared costumed as a cat and asking to be referred to as "Meowshelle":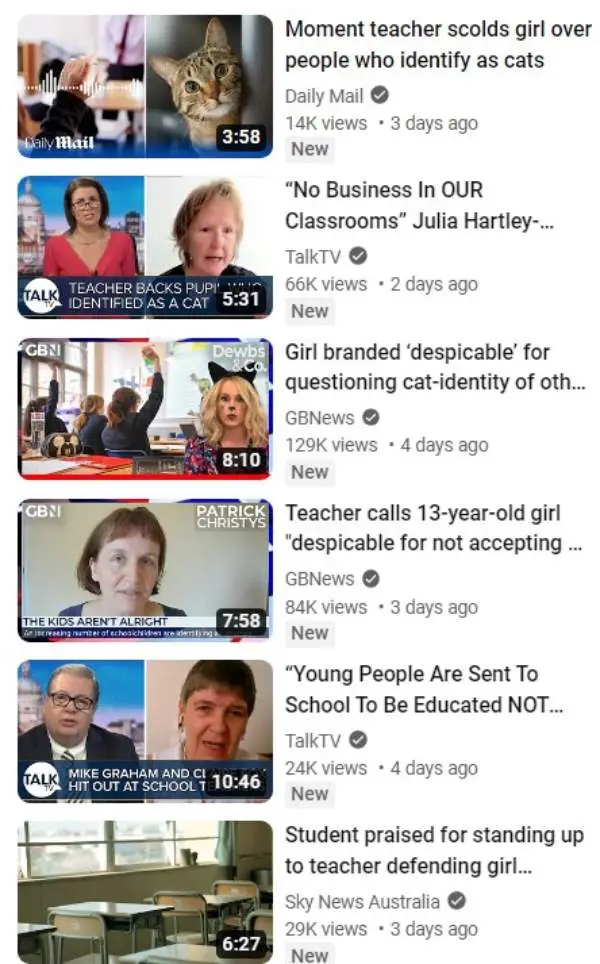 The Byline Times further reported that it spoke with someone who witnessed the argument, who said that the student targeted by classmates (referred to as "Student A") never claimed to identify as a cat; their anonymous source also said that the teacher heard in the recording was only made "irritable" by disrespect from the two students ("Student B" and "Student C") arguing with her:
What, by our source's account, happened is that there was an ongoing conversation happening between several pupils about identity before B and C engaged with them and — according to our source — as the discussion became increasingly personal and ill-tempered, either B or C then said, apropos of gender: "if you identify as a cat or a carrot you are insane."

In other words, nobody was talking about "cats" until the subject of them was introduced into the conversation by one of the two pupils who later made the recording. This was a broad-ranging conversation about gender and identity between a group of kids in Year 8 which seems to have turned nasty before the teacher intervened.
As has often been the case in the United States, the story was followed with not just similarly unsourced reporting but political posturing: Tory Education Secretary Gillian Keegan ordered an investigation into the incident, while a spokesperson for Sir Keir Starmer, head of the opposition Labour Party, did not question the story and called it "clearly ridiculous if you're in a situation where children are not being recognised as children."
Rye College responded by releasing a statement saying that none of its students "dentifies as a cat or any other animal."