The right-wing fever dream stoked by a satire blog in April 2017 turned into a monkey's paw wish a little over five years later.
That month, the Last Line of Defense published a piece claiming that former United States President Barack Obama had been the subject of a federal investigation:
Just after dawn in the quiet Tracy Street neighborhood of Washington, DC, the FBI and NSA served a warrant at the Obama's post-presidential rental mansion. The house, fortified with 10-foot walls and guard stations for Secret Service officers, serves as Obama's residence in Washington and allegedly as the headquarters for the deep State Shadow government.

[…]

Essentially, the FBI and NSA are alleging that there are shady dealings going on inside the house that has been the center of controversy since Paul Ryan, John McCain, Lindsey Graham and Dr. Ben Carson were all seen entering the house for secret meetings, presumably to take down President Trump.
Like everything else that blog published, the "story" was fabricated, as was spelled out in one of its disclaimers:
The Resistance may include information from sources that may or may not be reliable and facts that don't necessarily exist. All articles should be considered satirical and any and all quotes attributed to actual people complete and total baloney. Pictures that represent actual people should be considered altered and not in any way real.
As often happens, though, other blogs republished this piece without acknowledging that it was satire: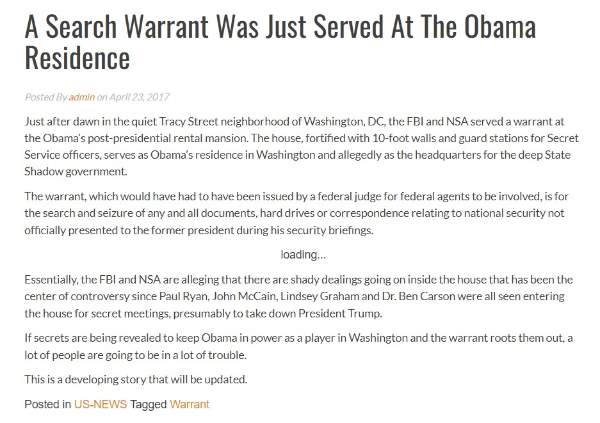 In August 2022, however, Obama's presidential successor Donald Trump was the actual subject of a federal investigation; agents for the Federal Bureau of Investigation (FBI) executed a search warrant at the Mar-a-Lago resort, Trump's Florida residence.
As is his habit, Trump falsely accused Obama of taking "33 million pages of documents, much of them classified" with him back to Chicago after leaving office. The National Archives and Records Administration quickly refuted Trump's statement in a statement, saying:
The National Archives and Records Administration (NARA) assumed exclusive legal and physical custody of Obama presidential records when President Barack Obama left office in 2017, in accordance with the Presidential Records Act (PRA). NARA moved approximately 30 million pages of unclassified records to a NARA facility in the Chicago area where they are maintained exclusively by NARA.

Additionally, NARA maintains the classified Obama presidential records in a NARA facility in the Washington D.C. area. As required by the PRA, former President Obama has no control over where and how NARA stores the presidential records of his administration.
By contrast, as Associated Press and other outlets reported, Trump's home was searched for classified documents involving nuclear weapons:
The warrant says federal agents were investigating potential violations of three different federal laws, including one that governs gathering, transmitting or losing defense information under the Espionage Act. The other statutes address the concealment, mutilation or removal of records and the destruction, alteration or falsification of records in federal investigations.
The now-unsealed Department of Justice warrant can be viewed here.
Update 8/12/2022, 3:33 p.m. PST: This article has been revamped and updated. You can review the original here. — ag