Inauthentically organized rage campaigns over a "Sharon Mercer" in 2014 is yet another example of fake content that has in the years since become weaponized into genuine threats against Americans.
The original post, published on the website "Modern Woman's Digest," claimed that Mercer (a teacher at "Clinton Middle School" in Florida) had exposed her students to sex toys. But as Gawker reported at the time, it was subsequently picked up in the right-wing online ecosystem:
This week, Infowars—the website of radio host and triangle-noticer Alex Jones—published a series of "shocking images out of a classroom in Jacksonville" supposedly showing "how 11-12 year olds in 6th grade are being taught how to use strap-on dildos."

[…]

A number of right-wing sites soon picked up the story, including TeaParty.org and neo-Nazi forum Stormfront, and by Monday the conspiro-sphere had entered a full-scale meltdown.
Both Modern Womens Digest and Infowars deleted their posts about the class. But the story does live on, in a sense, through bottom–level blogs who aggregated it though not always citing the former by name:
Sharon Mercer, who worked as a substitute teacher in Florida, was photographed during the demonstration by an unidentified student.

In the photos, which were uploaded to Imgur, the teacher is shown wearing a strap-on dildo, while fully clothed, and demonstrating how to use it to her class of sixth graders (11 to 12-year-olds).

[…]

The substitute teacher added, in an interview with Modern Woman Digest, that her suspension was based on bigotry and set back gay rights.
Photographs also circulated of "Mercer" handling a sex toy: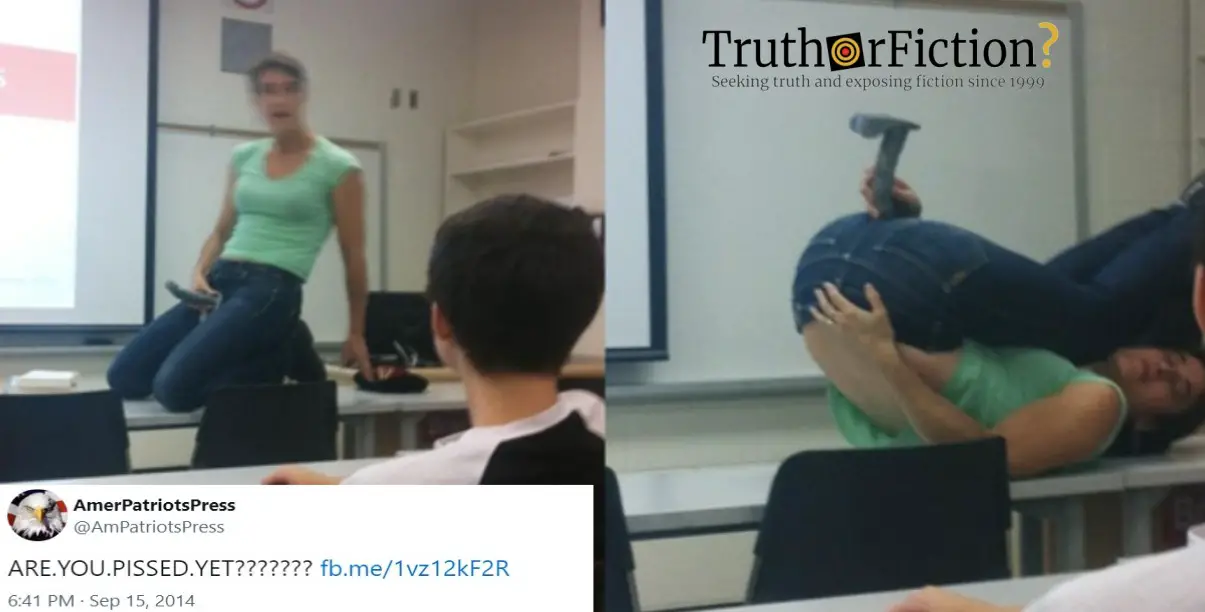 In reality, those photographs were taken at a 2012 event at Brock University in the Canadian province of Ontario. The person leading that session was identified as Carlyle Jansen, an actual sex educator who had spoken to high-school — not middle-school — students around Toronto. According to a 2009 story on her in the Toronto Star newspaper:
In the past 18 months or so, she's been to a dozen schools to talk about sexual health including the joy of sex – something different from charts showing diligent sperm swimming up Fallopian tubes and warnings about sexually transmitted infections.

"Teens say, `We're taught to death about STIs,'" observes Jansen. "`We want to know about relationships and sexual pleasure.'

"People get concerned when we talk about pleasure, implying that we are saying, `Go out and have sex.' But that's not what we're saying."
A photo we archived from Modern Womens Digest listed the author as "Jane M. Agni." Maybe the biggest clue that the author's identity was also made up was, the blog claimed "Jane" wrote full-time for "National Report," another blog that has pushed disinformation as satire:

The blog itself is still active, though it now emphasizes a different type of content: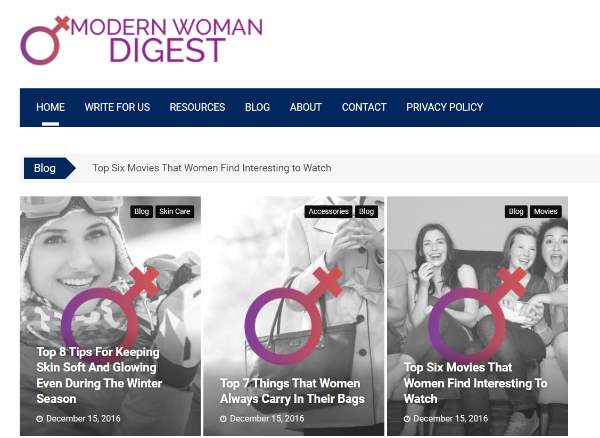 A disclaimer on the site reads, in part:
All the information on this website is published in good faith and for general information purpose only. modernwomandigest.com does not make any warranties about the completeness, reliability and accuracy of this information. Any action you take upon the information you find on this website (modernwomandigest.com), is strictly at your own risk. modernwomandigest.com will not be liable for any losses and/or damages in connection with the use of our website.
Overwrought fears over sex education have been weaponized into inauthentically organized, highly corrosive accusations of "grooming" against educators around the U.S.; as the Washington Post has reported, that has in turn been used to justify legislation in several states:
In Florida, Rick Stevens, a founder of the conservative educational advocacy group Florida Citizens Alliance and the pastor of Diplomat Wesleyan Church in Cape Coral, said he frets about the potential grooming of young schoolchildren.

"We don't have any evidence that it's happening, either deliberately or accidentally," he said. "But anytime you start to desensitize kids and normalize certain behaviors, then it makes it easier for someone who wants to recruit them for sex trafficking, or anything else, because the kids don't know the difference."
"There is a chilling effect on educators, in order to silence and marginalize and invisibilize support for LGBTQ-plus students," said Melanie Willingham-Jaggers, executive director of the advocacy group GLSEN. "The real effect of this stuff is diminishing opportunities for LGBTQ young people."
Some variations on this rumor included language that the (nonexistent) educator was a "Common Core" teacher, thus hitting yet another reliable outrage button for those vulnerable to being exploited by the far right's weaponized disinformation campaigns.
Update 6/17/2022, 3:49 p.m. PST: This story has been updated and reformatted. You can view the original here. — ag