A sign from God after hurricane Charlie-Truth!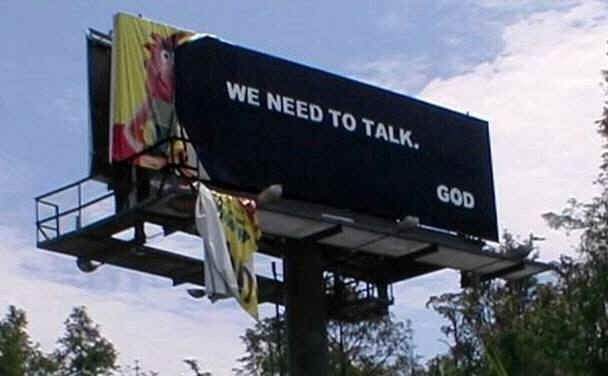 A "Sign" From God After a Florida Hurricane-Truth!
Summary of eRumor:
The eRumor says that the high winds of Hurricane Charlie in Florida in 2004 ripped a previous sign from a billboard, leaving a previous billboard visible for all to see that said, "WE NEED TO TALK...GOD"
The Truth:
Hurricane Charlie was one of four hurricanes to devastate portions of Florida during the 2004 hurricane season. In Orlando, the winds peeled away a current billboard leaving the remnants of a previous billboard campaign and displayed the timely message from God.
The old billboard was part of a series that were created by Andy Smith and Charlie Robb of the Smith Agency in Fort Lauderdale. The billboards were paid for by a person who asked to remain anonymous and who asked the Smith Agency to run the campaign from September to November of 1998. The roadside announcements were actually the work of Andy Smith and Charlie Robb of The Smith Agency in Fort Lauderdale. The advertising firm was hired last summer by a person requesting anonymity. Their instructions: Create and execute a marketing campaign from September to November that would get people thinking about God. The successful campaign prompted a request from the Outdoor Advertising Association of America to ask for permission to use the billboards elsewhere in the United States. According to the Wall Street Journal, they appeared in more than 200 cities. Updated 11/5/04.
---
A real example of the eRumor as it has appeared on the Internet: