Doctor Pushing COVID Disinformation Sentenced to Prison for Capitol Riot
A California physician who has been at the forefront of COVID-related disinformation was sentenced to 60 days in prison for taking part in the January 2021 attack on the U.S. Capitol.
According to CNN, Dr. Simone Gold was also ordered to pay a $9,500 fine — the largest imposed on a participant in the right-wing riot by supporters of former United States President Donald Trump. Court records show she will also have to pay $500 in restitution fees.
Gold is the founder of "America's Frontline Doctors" (AFLDS), an advocacy group that has consistently spread disinformation about the COVID-19 virus; federal judge Christopher Cooper criticized Gold at her sentencing for both her involvement in the group and for fundraising after the riot.
"January 6 was about a lot of things, but it wasn't about free speech or Covid vaccinations," Cooper told Gold. "The only reason you are here is where and when and how you chose to express your views."
Gold was arrested less than a month after the January 6 2021 attack against the Capitol and charged with violent entry and disorderly conduct as well as entering a restricted building or grounds.
Despite the attack causing the deaths of five people, Gold downplayed the violence at the riot in an interview with the Washington Post published shortly before her arrest:
"I can certainly speak to the place that I was, and it most emphatically was not a riot," the California resident said in a phone interview Monday. "Where I was, was incredibly peaceful."

Gold confirmed that she went inside the Capitol, saying she followed a crowd and assumed that it was legal to do so. She said she had not been contacted by anyone in law enforcement.
Gold was one of the first medical professionals to support Trump's efforts to downplay the COVID-19 pandemic. In May 2020, she was the lead signatory to Trump calling measures to stop the spread of the virus a "mass casualty event." As Associated Press reported at the time:
[Gold] has recently appeared on conservative talk radio and podcast programs to advocate for the use of hydroxychloroquine, an anti-malaria drug that Trump says he is taking because he believes it can prevent COVID-19 even though his own administration has warned it can have deadly side effects. Gold said she has prescribed the drug to two of her patients with good results.
As we have reported several times since the onset of the COVID-19 pandemic, hydroxychloroquine has been widely discredited as a treatment for the disease. As The Guardian reported following her arrest, other medical professionals condemned Gold and her group for continuing to push against established science on the disease:
"She and her organization show a wilful ignorance of science and the scientific method, as well as a disrespect for accomplished scientific institutions and brilliant scientists," said Dr Jeffrey Koplan, an epidemiologist and vice president for Global Health at Emory University who used to head the Centers for Disease Control and Prevention (CDC).

Dr Irwin Redlener, the director of Columbia University's Pandemic Resource and Response Initiative, added: "Simone Gold is a toxic purveyor of misinformation, now actively contributing to rightwing extremist rhetoric that continues to rile up people determined to hang on to the most egregious Donald Trump lies."
NPR reported that Gold's license to practice emergency medicine from the American Board of Emergency Medicine (ABEM) expired in December 2020.
Without mentioning Gold by name, ABEM said in an August 2021 statement that "should ABEM determine that a physician is promulgating inaccurate information that is contrary to the interests of patients and that adversely impacts public safety, ABEM may withdraw or deny certification for that physician."
According to the Medical Board of California, her license as a physician is active until November 30 2022: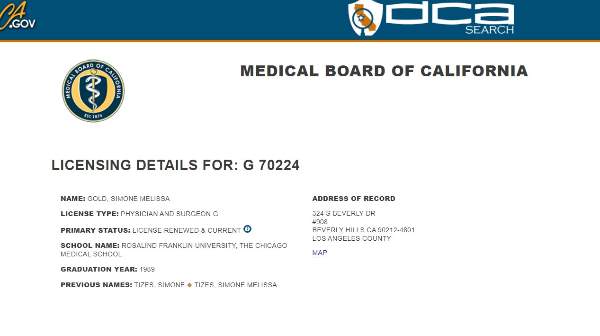 We contacted the board to ask if Gold's sentencing could potentially affect any future attempt to renew her license. We have yet to hear back.
A YouTube page for Gold remains active on that platform. We have also contacted Google, its parent company, asking if her sentencing, on top of her penchant for disinformation, would affect its standing.
In August 2022 WUSF-FM reported that Gold had moved to Florida and received a license to practice medicine there just before beginning to serve her sentence. She has also founded a new company, "GoldCare Health & Wellness LLC." According to WUSF:
It is described as a "private membership association" that costs $1,000 a year to join, $2,000 for a family. No private or government insurance is accepted for consultations that cost up to $100 per 15 minutes via telemedicine, according to marketing materials. Lab tests and prescriptions cost extra. Hospital care is not covered.
The group has already received an unfavorable review from Dr. Stephen Barrett, founder of the health information site Quackwatch, which focuses on medical misinformation. Barrett noted that Goldcare's website does not identify any providers who will be part of Gold's new project.
"However, it is safe to assume that its initial medical staff will be the physician-members of AFLDS, whose most notable characteristic is opposition to the scientific community's views on COVID-19 prevention and treatment," Barrett added. "I believe that relying on any such doctor would be very foolish."
The relationship between Gold and the organization imploded in late 2022; as Vice reported, AFLDS sued Gold, accusing her of trying to "restore herself into a leadership role with the organization" after serving her sentence, despite evidence that she was using AFLDS money to pay for personal security, a housekeeper, and a $3.6 million home among other expenses.
Update 8/18/2022, 2:47 p.m. PST: Updated to reflect Dr. Simone Gold receiving a license to practice medicine in Florida.— ag
Update 8/18/2022, 2:47 p.m. PST: Updated to reflect lawsuit filed by America's Frontline Doctors against Dr. Simone Gold.— ag