'The Crayons DYED Her Hair'
Claim
A Facebook Watch video shows a technique to color hair using crayons.
Like this fact check?

Reporting
A January 2021 video by the verified Facebook page of Adam Trent (titled "Crayons DYED her hair") was heavily promoted by Facebook's algorithm, purportedly demonstrating how to use ordinary crayons and common household items to add bright colors to hair.
Attempts to embed the post led to an unusual error screen which served to corral all views of the video to Facebook and boost the page's engagement rates. Although a view count was not immediately visible, the clip had six-figure like and comment counts: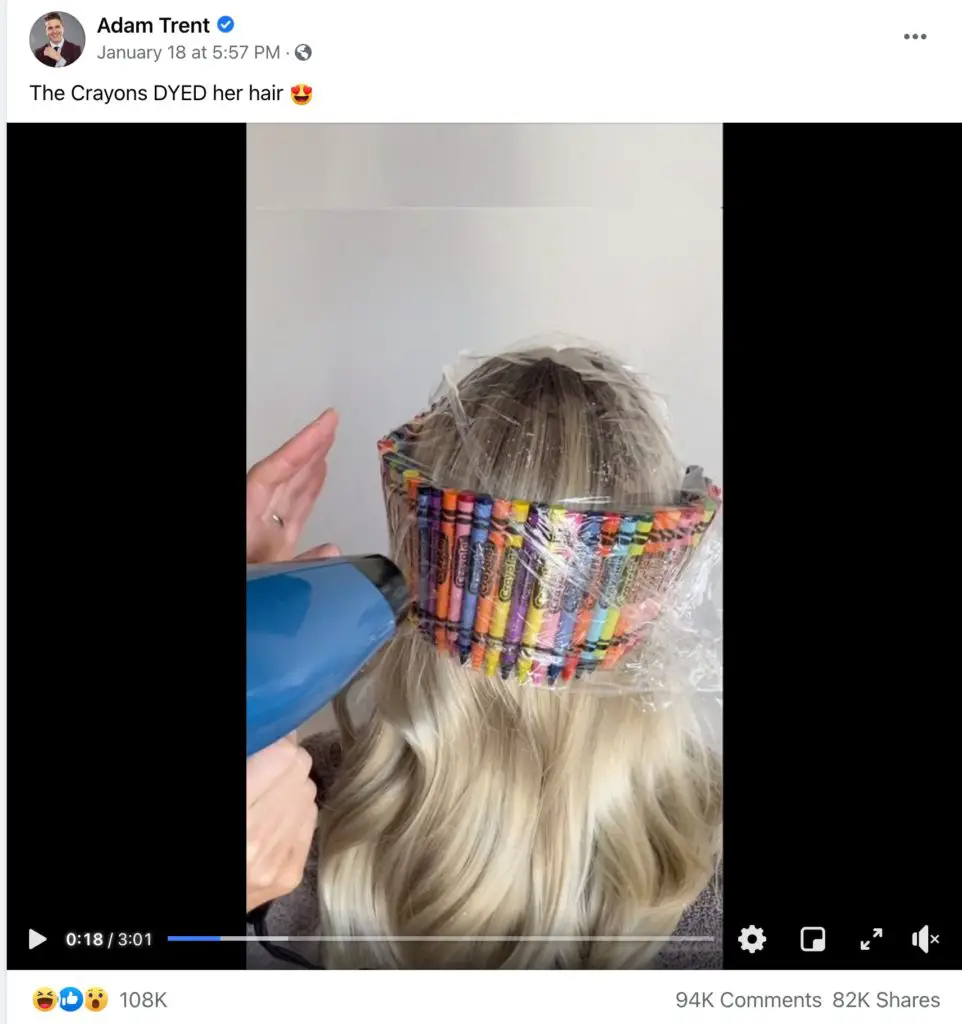 A description on Trent's page read:
Adam Trent shatters stereotypes and brings a new generation of magic to fans fusing technology illusions, dancing and comedy with classic techniques. Adam looks to change people's perception of magicians with his refreshing approach to magic; entertainment first and tricks second. He doesn't want people to remember "tricks" as much as the laughs and memories made with the performance.
Rich Lax also shared the video, and that post was also unavailable for embedding. Small text not visible on the main post read:
Crayons are made of wax, which is easy to melt. And when the wax melts, incredible things can happen. Here this video is pretty clearly a magic trick that we made for fun, so we don't know how it would turn out if you really did it! lol…
The clip began with a blonde woman holding up a wide strip of tape or adhesive with crayons attached, after which the woman wrapped the adhesive strip around what appeared to be a wig on a styrofoam head (at the mannequin's ear level). Several steps followed, accompanied by the following on-screen text:
Strap crayons to hair;
Spray with hot water;
Cover with plastic wrap;
Heat with blow dryer;
Pour salt over plastic wrap;
Cover with foil;
Time to activate the colors!!
At the end of the video, the "stylist" removed the foil — without the plastic wrap or "strap" of crayons — to reveal a rainbow wig. We found that same wig available for purchase on Amazon for $9.99: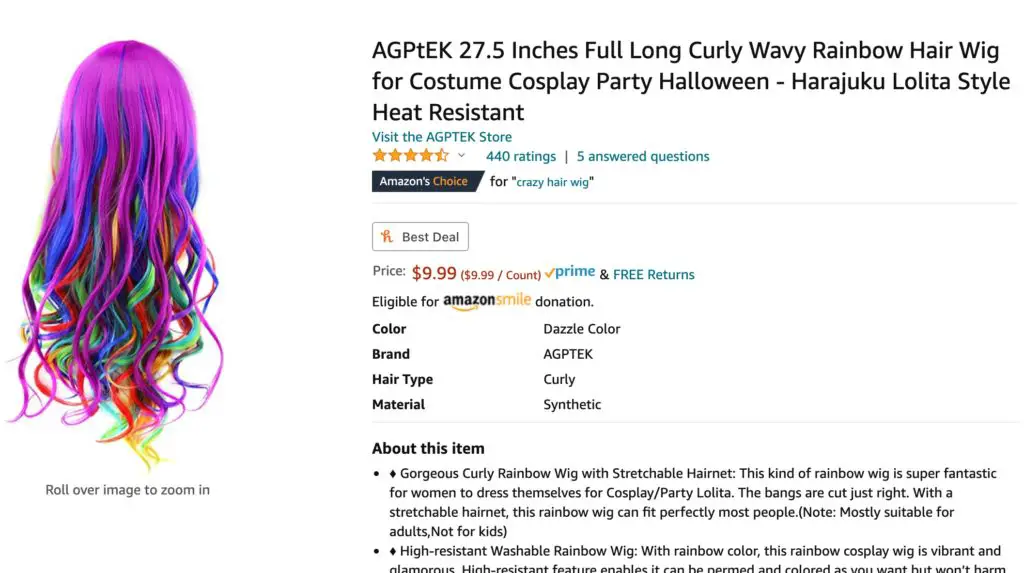 As commenters noted, the video debunks itself even without the image of an identical wig. Were it possible to melt crayons to color hair, the melted crayons would be under the tinfoil — and the color wouldn't extend perfectly up to the scalp, far past where the purported coloring agents were placed.
Viral Facebook posts often involved non-existent products (like Tiffany Blue roses) or generally misleading videos of "mind-blowing" hacks and transformations:
In some cases (like the roses) an item was being (dishonestly) marketed, but in instances like the "transformations you can do at home" or "she dyed her hair with crayons," the page itself was being marketed through strong engagement metrics.
Moreover, fake "hacks" and transformations are often (but not always) interpreted as hoaxes by users. Inevitably, individuals attempting to recreate hoax tips have injured themselves:
But the viral hacks aren't just harmless wastes of time — as both [reporter Chris] Fox and [food scientist Ann] Reardon warn, some of the suggestions offered in videos from the likes of 5-Minute Crafts and So Yummy are actually dangerous, and could result in real harm if someone attempted to, say, consume bleached strawberries (yes, really) or pour molten caramel on a spinning whisk. In 2019, a woman was sent to the hospital after she allegedly tried a recipe that instructed her to microwave eggs, which exploded in her face. As Greg Morabito wrote for Eater: "Recipe testing is […] a process that requires extra time and resources, and many viral food hacks and 'how to' tutorials don't need to actually be cookable to become wildly popular on the internet, anyway."
Although most commenters realized the "crayons dyed her hair" video was a hoax, its continued viral spread served to at best annoy people, and at worst inspire credulous or inexperienced viewers to attempt the "life hack" purportedly illustrated. A less-viral version of the clip stated (in small, difficult-to-find text) that the clip was a hoax, but the version being promoted and spread around on Facebook Watch did not outwardly note the video was a "trick."