Artist Allowed a Dog to Starve To Death in the Name of Art-Disputed!
 
Summary of eRumor:
An artist named Guillermo Vargas is said to have chained a dog and forced it to go without food and water for an art exhibition in Nicaragua and the dog later died.
The Truth:
There is no dispute that the exhibit by Costa Rican artist Guillermo Vargas (real name Guillermo Vargas Jiménez) took place in Managua, Nicaragua in 2007.  He also goes by the artist name of "Habacuc."
There is also no dispute that the reports about the exhibition have sparked international outrage.  Websites, blogs, and petitions were devoted to protesting the exhibit and calling for the artist to be uninvited from the Central American Biennial event in 2008.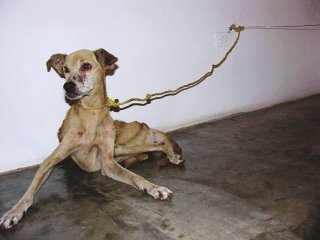 There is not agreement, however, about whether the dog was mistreated and died as a result of Vargas exhibit.
Vargas said that the display at the Codice Gallery in August, 2007, was intended to give tribute to a man named Natividad Canada, a 24-year-old Nicaraguan who died in a Costa Rican factory after being attacked by two Rottweiler dogs in 2005.  The exhibit also reportedly included the words "You Are What You Read" written with dog food, a recording of the Sandinista National Anthem playing backwards, and a censer in which burned "175 rocks of crack cocaine and an ounce of marijuana.".
Vargas said he got the dog, which he named "Natividad," from the streets of Nicaragua.
Circulated emails, blogs, petitions, and websites say the dog was already starved from living on the streets then was denied food and water during the exhibition and died as a result.
An article from Costa Rica's La Nacion newspaper in October, 2007, said the dog died after the first day and that the death was confirmed by Marta Leonor Gonzalez, editor of the cultural supplement of La Prensa in Nicaragua.
A news release from the gallery, however, told a different story.  Jaunita Bermudez, the director of the gallery, said the dog was at the exhibit for three days beginning Wednesday, August 15, 2007.  She said that he was allowed to run free in an inner patio except for three hours per day when the dog was on exhibit.  She also said that the dog was given water and food that was brought by the artist himself.  Bermudez said that the dog escaped through the main gate of the facility during the early morning hours of Friday, August 17, while a night watchman was cleaning the sidewalk outside.
Lilian Schnog, president of the Humanitarian Association for the Protection of animals in Costa Rica also looked into the incident and told TruthOrFiction.com that the dog did not die at the exhibition, but escaped as reported.
Vargas told La Nacion that he regards the complaints as hypocritical that the uproar was over a starving dog on exhibit and not a starving dog on the streets of Managua.
Updated 4/10/08