Did Putin Say George Soros Was Driving America to a 'Civil War'?
Claim
Russian President Vladimir Putin told advisors that George Soros and his "vast network of agitators" are driving the U.S. toward civil war.
Like this fact check?

Reporting
A long-running smear campaign against a Jewish billionaire philanthropist has been bolstered for years by quotes from prominent people, both real and fake.
One particular quote attributed to Russian President Vladimir Putin in 2017 was made up. But the antipathy he apparently feels toward billionaire George Soros was not, which allowed for right-wing blogs and social media users to respond in predictable ways amid the Russian invasion of Ukraine in 2022.
This particular fabricated quote, which circulated in the fringes of the right-wing Internet, was purportedly taken from "a cabinet meeting in the Kremlin" in which Putin told advisors:
Make no mistake, his endgame is revolution through civil war. In America he is using exactly the same tactics he uses everywhere.

George Soros is a well-known pyromaniac with matches in his back pocket pouring petrol onto a bonfire.

He does not own the world and he does not have the right to do whatever he wants. The people must come together and reject this dragon. We have no room for his divisive politics in Russia, and I think you will all agree we are much the better for that. With all due respect, America must reject George Soros' vision.
Again, there is no legitimate record of Putin talking about Soros in those terms. But the two men have exchanged criticism in the past, and Putin has made a point of spreading corrosive lies about Soros and his history.
In November 2015 Putin's government banned two charitable groups owned by Soros, the Open Society Foundations (OSF) and the Open Society Institute (OSI), saying their activities were "undesirable."
"It was found that the activity of the Open Society Foundations and the Open Society Institute Assistance Foundation represents a threat to the foundations of the constitutional system of the Russian Federation and the security of the state," the government said in a statement.
Less than a year later, Soros accused Putin of causing "a humanitarian catastrophe of historic proportions" in support of Syrian President Bashar al-Assad:
Russian planes are bombing the civilian population of Aleppo, the country's second-largest city, to assist Syrian government forces that are attempting to take control of rebel-held areas of the city.

The combined assault has, among other things, killed hundreds of people and wounded over a thousand, put the city's remaining hospitals out of commission, and deprived the population of drinking water.
Putin's actions, Soros said, were an effort on his part to exploit the transition period following that year's presidential election leading up to the January 2017 inauguration of Donald Trump.
"When the facts are fully established, Putin's bombing of Aleppo will be viewed as among the modern world's most egregious war crimes," Soros wrote.
Following Trump's election — and his loyalty toward Putin before and since taking office — lawmakers in his Republican Party amped up their rhetoric attacking Soros, who has long been portrayed as a left-wing boogeyman in right-wing online (and offline) circles.
As Politico reported in July 2017, Sen. Mike Lee of Utah and other GOP officials sent a letter to then-Secretary of State Rex Tillerson accusing him of pushing "a progressive agenda" to "invigorate the political left":
Unsatisfied with the State Department's Feb. 6 response, the lawmakers asked the Government Accountability Office on Feb. 24 to investigate USAID funding for Soros' Open Society Foundations. The lawmakers say USAID is funding a "progressive agenda" in the Balkans through Soros' foundation and accuse the ambassador of "actively intervening in the party politics of Macedonia … favoring left-leaning political groups over others."

Those complaints appear to be drawn from a document prepared by Stop Operation Soros that was distributed to members of Congress, including Senator Lee, in January. The 38-page dossier contains a number of implausible claims, including that USAID and Soros are aiming for "complete control over the media … with the final goal of establishing complete control over the country for Soros [sic] own benefit and implementation of radical policies."
During a joint press conference with Trump in July 2018, Putin criticized Soros by name in response to a question about operatives from his country interfering on Trump's behalf during the 2016 election.
"You have a lot of individuals in the United States, take George Soros for instance, with multibillion capitals," Putin said at the time. "But it doesn't make him, his position, the posture of the United States. No it does not. Well, it's the same case."
Patrick Gaspard, president of the OSF at the time and a former U.S. ambassador to South Africa, responded in an op-ed for BuzzFeed News that same month, saying:
Moscow continues to do what it can to attack us, with every tool it can employ — sadly without a word in our defense from the White House. At the same time, it is worth remembering that in 2016, the DCLeaks website now at the center of the FBI indictment of 12 Russian intelligence agents also published documents hacked from our intranet. RT and Sputnik now happily regurgitate right-wing media pieces attacking Soros, as do pro-Russian websites across the Western Balkans, Eastern Europe, and even in Italy.
Two days after Russia invaded Ukraine, a post on Soros' website called for international unity with Ukrainians.
"Russia is in clear violation of the United Nations charter and should be held accountable," Soros wrote on February 26 2022. "Allowing Putin to succeed on his quest will send a message across the world that nations can simply be created or dissolved by brute force."
Soros' statement of support toward Ukraine prompted attacks and a renewed round of conspiracy theories online: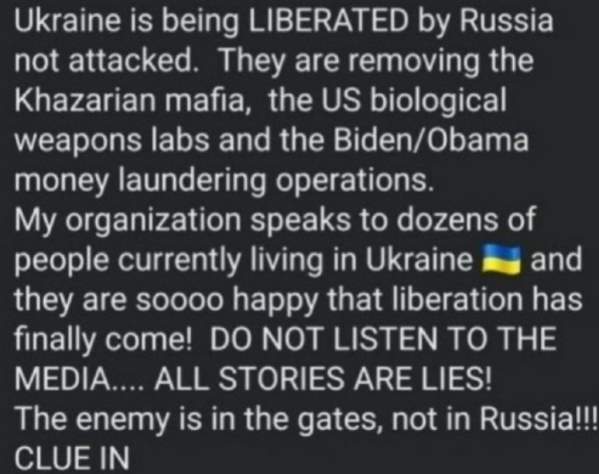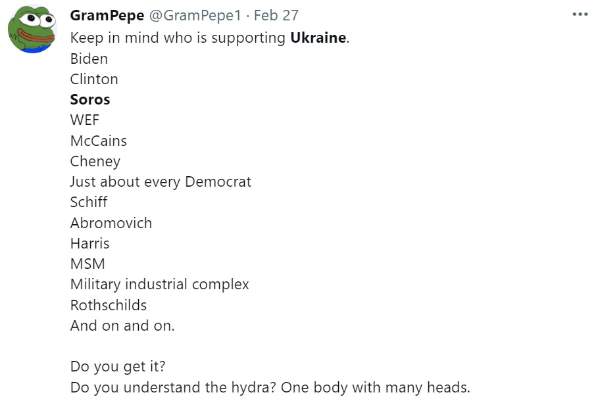 The progressive analysis site Media Matters reported that the right-wing blog Breitbart also regurgitated old conspiracy theories to attack Soros:
The white nationalist site ran the headline "Soros-Linked Mass Migration Lobby: U.S. Must Open Borders to Ukraine Refugees," while superimposing a picture of the Hungarian-born philanthropist and Holocaust survivor over a photo from a pro-Ukraine demonstration in Warsaw, Poland.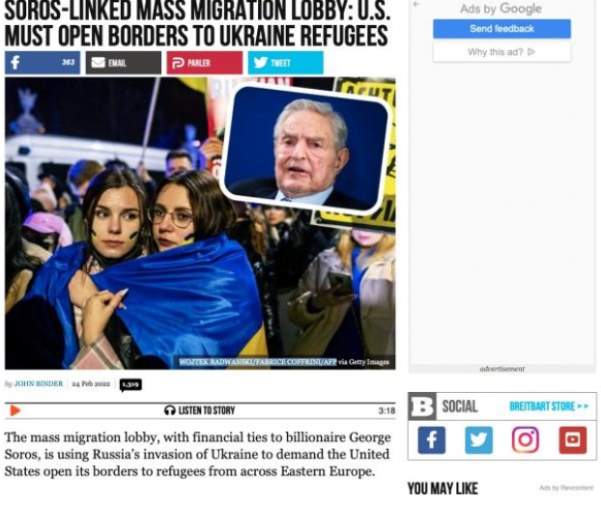 The article vilified refugee settlement groups as "the mass migration lobby," saying they "have a financial stake" in their work, and citing both government funding as well as "millions from Soros." The article also embedded a tweet from anti-immigrant extremist Mark Krikorian, who sarcastically declared that resettlement groups would not "let a crisis go to waste."
As Russia continued to incur economic sanctions from both the U.S. and the European Union, Ukrainian President Volodymyr Zelensky asked the latter group on February 28 2022 for "immediate accession."
"Europeans are aware that our soldiers are fighting for our country and, consequently, for the whole of Europe," he said in a video address.
That same day, Prime Minister Denys Shmyhal posted a photograph of Zelensky signing the application for the country to join the European Union.
President @ZelenskyyUA signed #EU membership application for #Ukraine. This is the choice of 🇺🇦 and Ukrainian people. We more than deserve it. pic.twitter.com/FRhLTfyjvJ

— Denys Shmyhal (@Denys_Shmyhal) February 28, 2022
Update 3/1/2022, 1:09 a.m. PST: This article has been revamped and updated. You can review the original here. -ag