Walmart Check for Quality Control Program-Scam!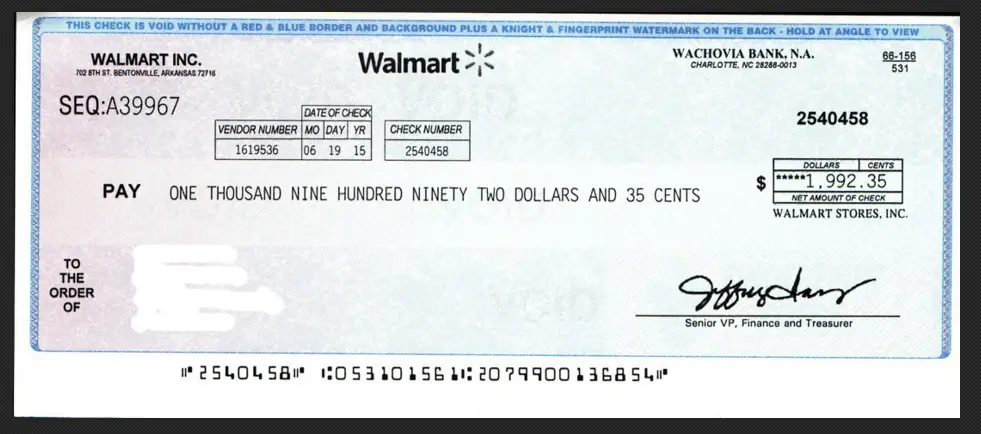 Summary of eRumor:
People are receiving what appear to be Walmart checks and letters inviting them to participate in the Walmart Quality Control Program as secret shoppers.
Truth:
If you've received a Walmart check in the mail, it's a scam.
People have reported receiving what appears to be a check from Walmart for $1,992 in the mail for their participation in the Walmart Quality Control Program:

A letter states that the person receiving the check has been hired as a part-time Consumer Survey and quality control specialist, and that the enclosed Walmart check is to complete an initial training exercise:
This is to inform you that based on the previous survey by our affiliate Customer Survey and Quality Control Specialists, you indicated your interest in an additional income on a part time basis, you hereby selected to participated in a paid Quality Control Program as one of the research personnel selected under the program, you will be working as a Consumer Service Evaluator of some selected merchant outlets and service providers. This research program is a fully paid program and would be become a permanent part time position for a selected few who are able to distinguish themselves in the course of this program. You will be assigned different jobs every week, for each job assignment, you will get paid different salary depending on the nature of the job assigned. Upon accepting this offer, you must keep your identity and assignment as CONFIDENTIAL in order not to introduce any form of bias to the data you collect. There is no obligation as to how long you eep the job, you are allowed to quit whenever you want.
According to the scam, the $1,992 Walmart check enclosed needs to be activated by logging onto wmnewtalents.com and entering a user ID and activation code that has been included in the letter. Then, once the check has been activated, the victim is instructed to deposit the check into a personal bank account — but that's a bad idea.
Once the fake Walmart check is "deposited" into your bank account, scammers will drain all of your funds. That's what happened to a number of victims in Illinois, according to a warning from a local sheriff's office.
Walmart has also issued a fraud alert for what it has dubbed "a mystery shopper scam." Mystery shoppers (also called secret shoppers) are paid to shop so that they can report their experiences back to corporate headquarters. Walmart has said that it does not authorize or use mystery shopper programs, so any offers to participate in them are scams:
How these scams work
• The scam artist sends a letter, e-mail solicitation or places an ad in a newspaper or on an electronic message board describing a paid, stay-at-home position in which the consumer will evaluate customer service at large retail stores—businesses with familiar names. In reality, these stores have no affiliation with the scam artist placing the ad.
• After responding to the ad, the consumer receives an "employment packet" containing a training assignment, a list of products to purchase at different stores and a realistic-looking cashier's check, often for $2,000 to $4,000.
• The "training assignment" is to deposit the check into the consumer's bank account, pose as a shopper and then use wire transfer to send the balance of the check's proceeds (minus the cost of the purchases and the consumer's "salary") to an address outside the United States, often in Canada.
The problem is that the check is fake; so when it bounces—which occurs after the money is wired—the consumer is accountable (in some cases, criminally) to the bank for the entire amount of the fake check, plus additional penalty fees. Also, in some instances, consumers are asked for personal bank account information. The company will then "deposit" money into their account for payment and funds with which to perform their Secret Shopper tasks. These consumers often then become victims of identity theft or have their accounts drained by fraudster.
If you've been targeted by the mystery shopper scam, click here to report it.