A 2013 report on right-wing terrorism by a security expert led to complaints from both social media users on that side of the political spectrum and the blogs catering to them.
Arie Perliger's analysis, Challengers from the Sidelines: Understanding America's Violent Far-Right, was posted on the website for the Combating Terrorism Center at the U.S. Military Academy (a.k.a. West Point), which specializes in education and research designed "to equip present and future leaders with the intellectual tools necessary to understand the challenges of terrorism and counterterrorism."
At the time, Perliger was the center's Director of Terrorism Studies and an associate professor both there and at West Point's Department of Social Studies. In his report, he identified three "major ideological movements" driving right-wing violence in the U.S.: white supremacists (the Ku Klux Klan as well as neo-Nazi and skinhead groups); anti-federalism (characterized by a belief that the U.S. was under the control of a "New World Order"); and Christian identity groups such as Aryan Nation.
Perliger wrote that the investigation into the bombing attack carried out by Timothy McVeigh in Oklahoma City in April 1995 — which killed 168 people and injured hundreds more — revealed it to be "part of a wave of far-right violence which was fueled by specific political and social conditions."
By the time of McVeigh's attack, thirty others had been carried out by right-wing groups that year alone; an increase in government resources devoted to fighting such groups, Perliger wrote, did not succeed in dismantling them for good:
Some of them adapted to the growing governmental scrutiny by shifting to milder, less militant activities; others formed new organizational entities in place of the old ones, hoping to deter suspicion.

Combined with the emergence of the Jihadi threat, this facilitated a prevailing sense that the far right was in decline. However, this apparent interlude is over. In the last few years, especially since 2007, there has been a dramatic rise in the number of attacks and violent plots originating in the far-right of American politics.
Predictably, one right-wing blog responded with a blog bearing the title "West Point Cadets Taught Patriots Are Terrorists" and a photograph depicting Perliger using anti-Semitic tropes: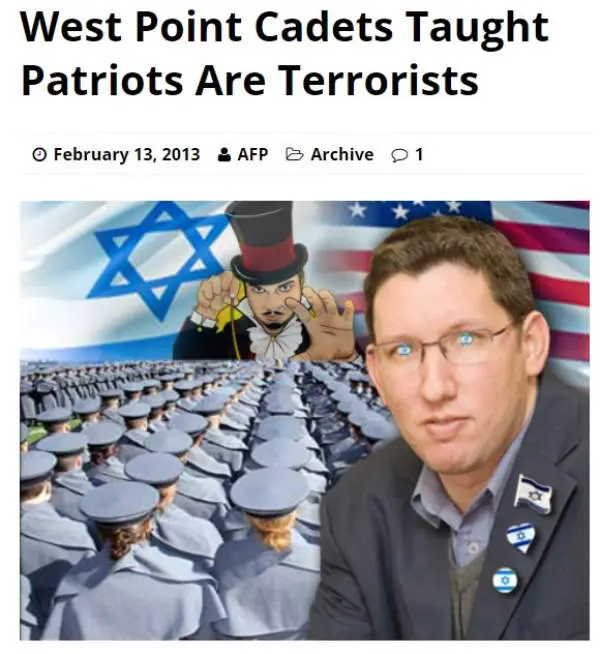 The study also got the attention of Facebook right-wing groups; one user complained:
To summarize: if you believe in the constitutional right to bear arms, a strong role for civilian activism in America's pluralistic political system, a kinship with the Founders and their Natural Law principles, and that Washington's growing authoritarian power threatens to swamp our individual liberties, you are a racist, right-wing member of a violent militia … that threatens to "restrict the sovereignty of the federal government."

Another post, which remains active despite Facebook's claim that it monitors far right groups, blamed a familiar boogeyman for Perliger's analysis:
Barack Hussein Obama has launched an ambitious plan to indoctrinate and train the U.S. military to fight people like you and like me.

Mr. Obama's Combating Terrorism Center at the U.S. Military Academy just released a report "warning" of the danger of "anti-federalist" Tea-Party type activists, and how the military must prepare to battle them!

Please send faxes to the Republican members of the House of Representatives IMMEDIATELY, and demand that they defund this unconstitutional military indoctrination center.

Perliger's work was further distorted by an article in the Washington Times blog, which omitted any mention of white supremacist groups or McVeigh in favor of a histrionic opening statement:
A West Point think tank report that links people who believe in individual freedom with violent "far right" movements has stirred strong opposition from conservatives and former members of the military.
Rather than quote anyone by name, however, the piece only cited an unnamed Times "reader" who bemoaned what they claimed was "the rise of liberalism within the faculty there and their desire to shape the next generation of warrior/patriots into left-of-center thinkers."
Far from being debunked at the time, Perliger's analysis foreshadowed deeper incursions by white supremacists and right-wing groups. As the Washington Post reported in September 2017:
Since 9/11, there have been 95 deaths in the United States linked to Islamist militant violence, while 68 people have died at the hands of the far right during the same time, according to the nonpartisan think tank New America.

Just months before 32-year-old Heather Heyer was killed and 19 others were injured in Charlottesville, the FBI and Department of Homeland Security issued a joint intelligence bulletin that said white supremacists "were responsible for 49 homicides in 26 attacks from 2000 to 2016 . . . more than any other domestic extremist movement."
But while Obama's Attorney General, Eric Holder, restarted a task force into domestic terrorism in 2014 that was originally formed in response to McVeigh's attacks, experts said that the issue had been badly neglected, with major real-world results.
"The federal government has taken their eye off the ball, and it has allowed the far right to fester and grow for decades," Heidi Beirich of the Southern Poverty Law Center told the Washington Post. "They are a real threat that has been underestimated."
Underscoring Beirich's point, a separate analysis published in 2020 by former federal agent Michael Germa found that white supremacists had infiltrated law enforcement agencies across the United States. According to The Guardian:
Over the years, police links to militias and white supremacist groups have been uncovered in states including Alabama, California, Connecticut, Florida, Illinois, Louisiana, Michigan, Nebraska, Oklahoma, Oregon, Texas, Virginia, Washington and West Virginia.

Police in Sacramento, California, in 2018 worked with neo-Nazis to pursue charges against anti-racist activists, including some who had been stabbed, according to records.

And just this summer, German writes, an Orange county sheriff's deputy and a Chicago policeman were caught wearing far-right militia logos; an Olympia, Washington, officer was photographed posing with a militia group; and Philadelphia police officers were filmed standing by while armed mobs attacked protesters and journalists.
The ties between law enforcement and military officials and right-wing elements were also manifest in the January 6 2021 coup attempt carried out at the U.S. Capitol. As CBS News reported that August:
At least 62 of those arrested are current or former military members. Of those, one is an active duty service member, four are current part-time troops in the Army Reserve or National Guard and 57 previously served in the military, according to attorney statements, military service records and court documents obtained by CBS News.

At least 26 have served in the U.S. Marines, 24 have served in the Army, three served in the Navy and two served in the Air Force. One defendant, Jeffrey McKellop, was a communications sergeant with the Army Special Forces, a group known colloquially as the Green Berets.
As of January 3 2022, more than 700 people from 45 U.S. states had been charged in connection with the attack.
Update 1/6/2022, 12:09 a.m. PST: This article has been revamped and updated. You can review the original here. -ag