Lunar Astronaut Buzz Aldrin Celebrated Communion on the Moon -Truth!
Lunar Astronaut Buzz Aldrin Celebrated Communion on the Moon –Truth!
NASA Kept the Lunar Communion Service a Secret for 20 years-  Fiction!
Summary of eRumor:
A forwarded email that says when Astronaut Buzz Aldrin landed on the moon he called the Houston Space Center to request a moment of silence and celebrated the Christian sacrament of Communion. The email also says that this was kept a secret from the public for two decades.
The Truth: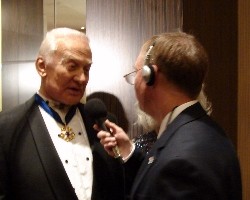 Astronaut Buzz Aldrin says he did have a communion service on the moon's surface shortly after landing the Lunar Module "Eagle" on the Sea of Tranquility. He told the story in an article in Guideposts magazine in 1999, an issue of the publication that commemorated the 20th anniversary of the lunar landing.   Click for article.
Astronauts Neil Armstrong and Buzz Aldrin were the first two men to successfully navigate from the Earth to the Moon, walk on the surface, gather samples of lunar rocks and return safely to Earth in July of 1969.
The article said that when the Eagle touched down on the moon on Sunday July 20, 1969.  Aldrin took out the communion elements that he had brought along for the trip and put them on a small table.  He then radioed the Houston Space Center to request a few moments of silence.
Aldrin began his radio transmission to the Houston Space Center, "This is the (lunar module) pilot, I'd like to take this opportunity to ask every person listening in, whoever and wherever they may be, to pause for a moment and contemplate the events of the past few hours and to give thanks in his or her own way."
At at point, NASA had decided to blackout the broadcast of the communion service.
From the lunar surface, Aldrin then read "I am the vine, you are the branches. He who abides in Me, and I in him, he it is that bears much fruit, for apart from Me you can do nothing" (John 15:5, Revised Standard Version). and took communion.
Previously, during an Apollo 8 mission, astronauts read from the Bible passages from the book of Genesis while in lunar orbit which resulted in a lawsuit filed by atheist Madelyn Murray O'Hare.  The lawsuit was later dismissed.
There does not appear to have been a 20 year NASA secret about the lunar Communion service, otherwise Aldrin would not have told about his account in an October 1970 Guideposts article.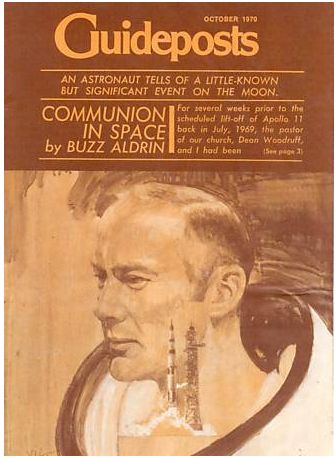 updated 09/08/09