Houston Police Attempt to Link 'Drug Spiking' to Fatal Astroworld Concert
Houston police attempted to link an alleged injection "attack" to the chaos at a November 2021 concert that culminated in the deaths of eight people and injuries to more than 300 others.
Local police chief Troy Finner first pushed the claim during a November 6 2021 press conference following the fatal event at the Astroworld Festival, headlined by rap artist Travis Scott.
"We do have a report of a security officer, according to the medical staff, that was out and treated him last night," Finner claimed. "He was reaching out to restrain or grab a citizen and he felt a prick in his neck. When he was examined, he went unconscious. They administered Narcan. He was revived and the medical staff did notice a prick that was similar to a prick that you would get if somebody was trying to inject,"
Finner did not provide any evidence to corroborate this claim. In a separate press conference on November 9 2021, he walked it back saying that his department had located the security guard in question but that his account "was not consistent" with being injected.
"He says he was struck in his head; he went unconscious. He woke up in the security tent," Finner said. "He says that no one injected drugs in him. So we want to clear that part up."
A spokesperson for the Harris County Institute of Forensic Sciences told the Associated Press that it could take weeks to release the causes of death for the eight people killed at the event.
Reached for comment two days after the press conference, a Houston Police Department spokesperson told us that it would not grant any "one-on-one" interviews regarding the investigation into the deaths at the concert. Instead, we were advised that all statements would be made in police briefings and through the department's Twitter and Facebook accounts.
That same day, the department posted a photograph of a statement attributed to Finner:
I met with Travis Scott and his head of security for a few moments last Friday prior to the main event. I expressed my concerns regarding public safety and that in my 31 years of law enforcement experience I have never seen a time with more challenges facing citizens of all ages, to include a global pandemic and social tension throughout the nation. I asked Travis Scott and his team to work with HPD for all events over the weekend and to be mindful of his team's social media messaging on any unscheduled events. The meeting was brief and respectful, and a chance for me to share my public safety concerns as Chief of Police.

As I have previously stated, our criminal investigation continues. We are asking for everyone to be considerate of the grieving families during this incredibly difficult time. Please continue to live them up in prayer.
Statement from Police Chief @TroyFinner on #ASTROWORLDFest:#hounews pic.twitter.com/RouNcMErv2

— Houston Police (@houstonpolice) November 8, 2021
Footage from the concert posted online in the days immediately following the fatal concert have produced no evidence supporting the idea of someone "injecting" people in the crowd of an estimated 50,000 people: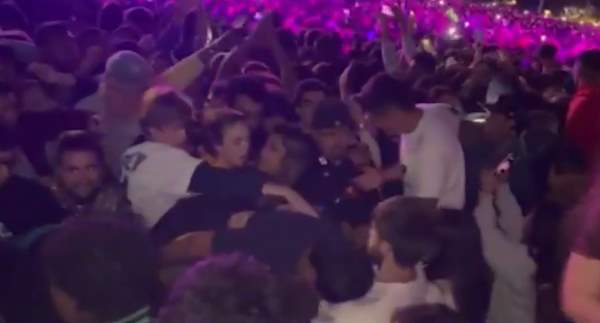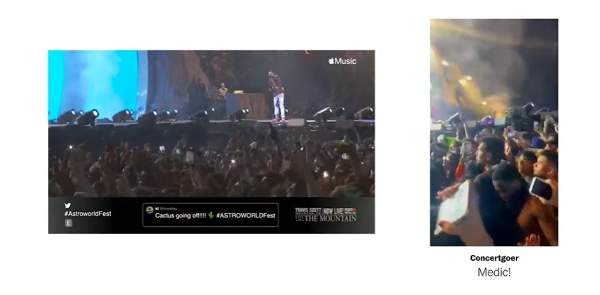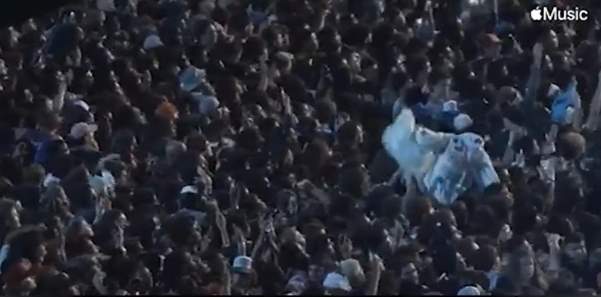 However, media outlets ranging from the gossip blog TMZ to CBS News have amplified Finner's claim. The network posted a tweet saying that Finner had "confirmed" the allegation regarding the purported security staffer: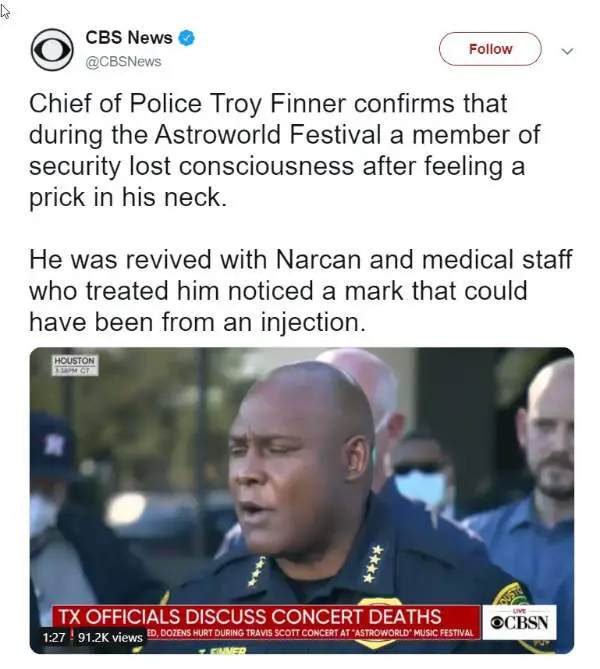 We contacted CBS News asking if they had any reporting to back up their claim on Twitter. The network did not respond.
Further, the claim was not included in a November 8 2021 story filed by reporter Lilia Luciano. However, Luciano did say on her own Twitter account: "According to a source close to #Astroworld Police are looking into a 'drug spiking incident in a targeted area of the festival' and whether it was was 'a targeted attack.'"
The spread of this claim mirrors similar in which news organizations have parroted police department claims or arguments about drug-related "attacks."
However, someone being given Narcan at the scene of the concert was not evidence that they experienced an overdose, medical toxicologist Ryan Marino told Filter magazine.
"I have seen plenty of cases where Narcan has been given to people who have fainted, who are experiencing a panic attack, or even where someone was just drinking alcohol," Marino said. "And while it may appear that they 'responded,' that is not always the case."
Meanwhile the advocacy group Health in Justice Action Lab accused the department on Twitter of ginning up "anti-drug panic" with the help of the media.
"It's much easier to whip up panic about drugs to muddy the waters than it is to take responsibility for an awful event that led to several deaths," the group said. "Blaming individual drug users is a tried and true scapegoating tactic. Based on the past few days of media reports and footage, it's clear this event was poorly managed and necessary lacked infrastructure."
The Houston Chronicle reported that Live Nation and its subsidiary Live Nation Worldwide has been linked to "at least 750 injuries and around 200 deaths at its events in seven countries since 2006." The company has promised refunds to all Astroworld attendees.
Associated Press reported that Scott, the festival's founder, has promised to pay for funeral costs for the eight people killed at Astroworld. At least three lawsuits have been filed on behalf of people saying they were injured at the concert against not only Scott, but the venue's promoter Live Nation Entertainment and rapper Drake, who appeared at the show as a surprise performer.
Further reporting revealed that while the event's 56-page operation plan included contingencies for "an active shooter, bomb or terrorist threats and severe weather," it did not include a plan on how to deal with a surging crowd.
The events of the concert have also spawned conspiracy theories painting it as an event with supernatural overtomes.
Update 11/10/2021 2:25pm PST: This story has been updated to reflect Houston police debunking the theory that a security guard was "injected" during the events of the Astroworld festival.