Claims of "rainbow fentanyl" are ushering in the 2022 Halloween season, but the most frightening aspect of the rumors might be how willing lawmakers are to believe them.
Senate Majority Leader Chuck Schumer (D-New York) has taken up the talking point of "rainbow fentanyl," calling for $290 million in federal funding to combat an alleged danger to young people that has yet to materialize.
Fact Check
Claim: Rainbow Fentanyl is being used to target children
Description: Elected officials claimed that 'Rainbow Fentanyl' is being used to target children, with some assertions connecting this to the Halloween season. The claim has been spread by multiple lawmakers and was picked up by several media outlets.
"Simply put, it is not candy," Schumer said in a press conference. "They don't tell the kids it's candy, but they say, 'Oh, this will give you a great high,' and it looks innocent, so the kids are far more likely to take it."
But he is not the only one advancing such claims. For example, Sen. Rob Portman (R-Ohio) pulled out all the stops tweeting a military-flavored statement about the purported rainbow pills, saying, "We must have all the boots on the ground to interdict deadly rainbow fentanyl as Halloween approaches":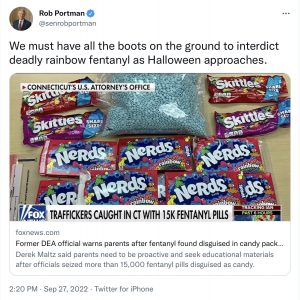 "In my mind, the reason that this is becoming a hot topic right now is because we are close to the midterm [elections]," said medical toxicologist Dr. Ryan Marino, who has gone on record several times debunking stories of this nature. "This has become a political issue certainly in relation to the border, trying to appeal to parents; and drugs are always a hot topic, at least in recent years."
The statements coincided with new claims by the Drug Enforcement Administration (DEA) — repeated without question by news organizations — that the colorful pills are being pushed by cartels.
However, NBC News has already walked back at least part of its own story in a correction published on September 27 2022:
An earlier version of this article mistakenly stated that drug cartels were using "rainbow fentanyl" pills to target people as young as middle schoolers. Cartels are targeting young people with the multi-colored pills, the DEA administrator said.
The story was later featured again by the network's Today Show, but with with no mention of the earlier mistake:
"It really is a press report from law enforcement," Marino said of NBC's story. "It's a statement from the DEA that contains no substantiation or corroborating details, and for major news outlets to be repeating this verbatim without any sort of scrutiny or fact-checking is definitely concerning. If it were any other topic, this would not be the case."
As officials pushed this line, a series of Twitter posts saying the same thing ("Watch your kids candy this year. The new thing is rainbow fentanyl. Looks like sweet tarts..") have surfaced on the platform, as they do in one form or another every year:
But as Vice reported in August 2022, the allegations regarding "rainbow fentanyl" lack substance, according to experts:
The likeliest explanation is that dealers are simply adding food coloring to their drugs to distinguish their product, according to Claire Zagorski, program coordinator at the Pharmacy Addictions Research and Medicine Program at the University of Texas at Austin.

Zagorski told Vice News there's no evidence that drug dealers are deliberately trying to lure children into using their fentanyl. She added that it doesn't make economic sense.

"There is not a lot of money in targeting kids and this idea that drug sellers are coming for our children is a very old one that's been washed and repeated over the decades," she said.
As we noted at the time, news stories treated law enforcement agency claims with similar credulity: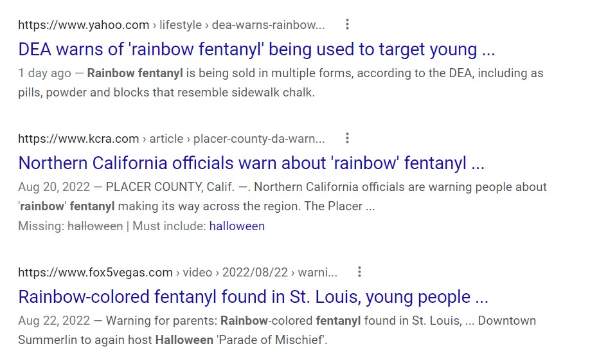 Dr. Nabarun Dasgupta, senior scientist for the Injury Prevention Research Center (IPRC) at the University of North Carolina-Chapel Hill, told Salon that the recent spate of allegations was "typical drug war bulls**t" and "so divorced from any reality of what drug markets are actually like, it was almost laughable that our country's top drug enforcement folks are so out of touch with what's happening on the ground."
Like Zagorsky, Dasgupta also pointed out that "colored dope" was in no way a novelty.
"This is like completely nothing new," he said.
The "rainbow fentanyl" allegations also link two long-standing pieces of disinformation: warnings about fentanyl being lethal to the touch, which have been promoted by law enforcement agencies despite being repeatedly debunked, and the panic over "candy"-related drug abuses, warnings about which classically circulate around Halloween with very little to lend them credibility.
"It's a great thing to worry about, because it happens one day a year," sociologist Dr. Joel Best said in 2015. "People are imagining this terrible person, who lives down the block, is so crazy that he poisons little children at random. But he's so tightly wrapped that he only does it one day a year."
Update 9/27/2022, 3:14 p.m.: Updated to reflect quotes from medical toxicologist Dr. Ryan Marino. – ag