Activists Accuse Facebook of Ignoring Warning on Neo-Nazi Groups' Spread
An activist group combating the proliferation of white supremacist propaganda online accused Facebook in a November 2020 report of failing to act when alerted to the spread of one such network on its platforms in 2018.
"Facebook's leadership endangered public safety by letting neo-Nazis finance their activities through Facebook and Instagram," said Imran Ahmed, the executive director of the Centre for Countering Digital Hate, or CCDH. "This lack of action would not have gone unnoticed by extremists, who now know that Facebook allows them to recruit, organize and raise funds without interference."
According to the British news outlet the Observer, Ahmed's group released a report on November 22 2020 which detailed the activities of several groups on Facebook and affiliated platforms such as Instagram and Telegram, which had gone on to form a network of 61 accounts that had amassed more than 112,000 followers.
According to the report:
Typically, each network of accounts uses a Telegram channel to organise its efforts on other platforms and share its most extreme content, taking advantage of Telegram's refusal to act against extremist material on its platform. In contrast, accounts on Facebook, Instagram and YouTube are used as "shopfronts" to advertise neo-Nazi merchandise to the widest possible audience, typically directing would-be customers back to an "endpoint" on Telegram, email or a website to complete transactions.
The report, which was co-authored by the CCDH and another group, Coalition for a Safer Web, specifically names the neo-Nazi retailer Walknvt as the "most influential element" of the right-wing network and one that was first brought to Facebook's attention in November 2018. It also included descriptions of some of the group's "merchandise":
One t-shirt bears the message "support your local Einsatzkommando", referring to the Nazi soldiers whose mission was to exterminate Jews and other minorities. Walknvt claims to ship worldwide, with the exception of Belarus and Russia, and maintains accounts focused on France, Scandinavia and the US.

[…]

In another sign of its neo-Nazi ideology, Walknvt registered its web address under the name "Rahowa88", a compound of a neo-Nazi abbreviation meaning "Racial Holy War" and the "88" code meaning "Heil Hitler."
While Facebook did remove the retailer's more successful accounts in September 2020, the report said Walknvt rapidly re-established itself on Instagram.
"Walknvt was able to resume its operations so quickly in part because it had directed followers to Telegram, where they were able to receive new instructions on where to view its products," the CCDH wrote. We can also confirm that the Walknvt Instagram account remains active: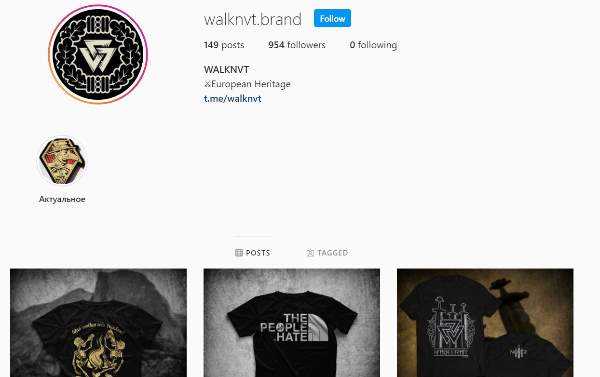 Other groups mentioned in the report that remain active on Facebook-related sites include the private group "Christian Identity Truth," which allows users to join if they indicate that they believe in the white supremacist "two seedlines" take on theology.
"This doctrine posits that only white people descended from Adam and Eve, while Jews were descended from the 'serpent seed,'" the report stated.
The group's introduction page claims that it is "witnessing the message of the Christian Identity TRUTH to those who are stuck in the Judeo-Christian web of brainwashing":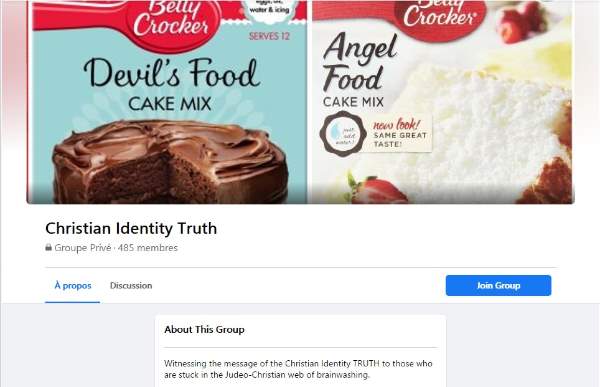 According to the Observer, Facebook began removing white supremacist material highlighted in the report after being contacted by the newspaper. Reached for comment, a spokesperson told us:
We have removed the content which violates our policies prohibiting dangerous organizations. We regularly work to improve our technology to find and remove this content faster and, while there is more work to do, we are making progress. We've banned over 250 white supremacist organizations from Facebook and Instagram, and remove content that praises, supports or represents these groups whenever we find it. Between July and September, we removed four million pieces of content tied to organized hate from Facebook, over 97 percent of which we found before it was reported.
Facebook groups have also served as a hub for inauthentic and violent discourse in the United States throughout 2020. One such group was used as a recruitment tool for a group of Michigan men arrested in October 2020 for allegedly plotting to kidnap and kill Gov. Gretchen Whitmer; similar groups were also behind a series of inauthentically organized protests earlier in the year against public safety measures related to the COVID-19 pandemic, and were further amplified by domestic fascist groups.
The company has also said that it has a team of more than 350 people focused solely on identifying and shaping its policy on "dangerous individuals and organizations," as well as its partnerships with organizations who address online extremism.
However, following the spread of content leading up to a fatal double-shooting in the midst of a protest against police brutality in Kenosha, Wisconsin in August 2020 Facebook chief executive officer Mark Zuckerberg claimed that the contractors did not have the type of training necessary to spot "the details or nuances of how certain militias or how certain conspiracy networks or other dangerous organizations operate."