Online Conspiracy Theorists Swarm 'HRC' Suez Canal Boat Jam
Reports of a container ship creating a traffic jam on the Suez Canal in Egypt quickly became grist for online conspiracy theorists, who spun the story into another smear against former Secretary of State Hillary Clinton.
As the BBC reported, the Ever Given was passing through the canal while sailing from China to the Netherlands on March 23 2021 when it got stuck. The ship's Taiwan-based operators, Evergreen Marine, blamed high winds for the mishap:
Dozens of vessels are stuck, waiting for rescue boats to free the 400m-long (1,312ft) ship, which was knocked off course by strong winds.

Egypt has reopened the canal's older channel to divert some traffic until the grounded ship can move again.
But the situation was spun into a "sign" of something much more sinister by disinformation pushers and conspiracy theorists. According to one summary of the conspiracy theory:
Suez Canal blocked by huge container ship named Evergreen. Evergreen shipping is most likely a cover for human and sex trafficking.

HRC = Hillary Rodham Clinton.
Evergreen = Hillary's Secret Service name.
Evergreen Call Sign: H3RC
It is true that the Secret Service gave Clinton the codename "Evergreen." But otherwise, the argument is another attempt to regurgitate "trafficking" allegations against her.
Alex Kaplan, a researcher for the progressive media watchdog site Media Matters, reported that "multiple QAnon influencers" were pushing the bogus claim:
Multiple QAnon influencers are trying to connect QAnon and Hillary Clinton to this container ship on the Suez Canal. https://t.co/HJ0Aaex9pM pic.twitter.com/AUr5wlQluR

— Alex Kaplan (@AlKapDC) March 24, 2021
Other disinformation experts posted screenshots of additional attempts to — pardon the pun — muddy the waters:
Anons are now attempting to use Q drops to decipher the significance of the ship that's currently lodged sidewards obstructing the Suez Canal. pic.twitter.com/xMJ8WVb4Ly

— allie mezei (@pinealdecalcify) March 24, 2021
A Facebook search also revealed several accounts attempting to spread their fabrications, without any apparent attempts at intervention from the social media platfomr: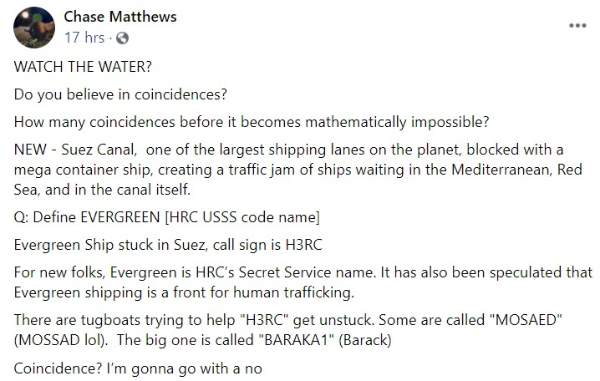 Rather than being read as a sign, the attempts to twist the Ever Given's circumstances into "proof" of an illicit operation provide another demonstration how conspiracy theorists can work news events into the (often deeply racist and anti-Semitic) narratives they feed to followers. Clinton, in particular, has been a longtime target for this right-wing cottage industry, which has promised at various points to its followers that she, as well as other political figures like former United States President Barack Obama, would be arrested as part of a takedown of the "Deep State" that would deliver the U.S. government into their — QAnon conspiracy theorists' — control.