Did Obama Say 'I Won't Leave if Trump Is Elected'?
Claim
Then-U.S. President Barack Obama said in 2016 that he would refuse to leave office if Donald Trump were elected to be his successor.
Like this fact check?

Reporting
A Canadian blog's December 2016 post touched off a unique dispute within that genre — and it can also be read now as a foreshadowing of Donald Trump's post-presidential future.
That month, the Burrard Street Journal (BS Journal) published a post claiming, "President Obama Confirms He Will Refuse to Leave Office if Trump Is Elected," which featured a doctored photograph of then-President Barack Obama taken from a CNN broadcast: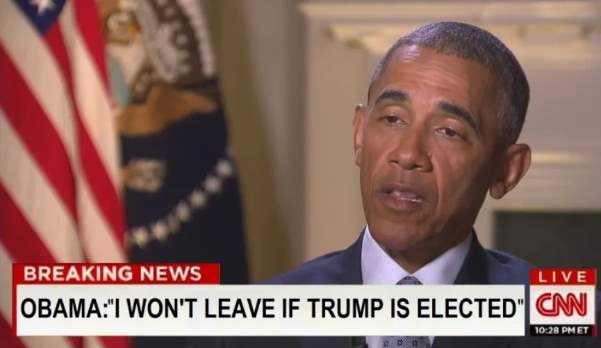 The Journal's post claimed that Obama had announced his intentions to CNN presenter Wolf Blitzer:
"As president, I must do what I feel is in the best interests of our nation," [Obama] explained. "If the American people elected 'the Donald' then I will be forced to take whatever actions I deem necessary."

When asked by the CNN anchor if he would remain in charge, Obama's response was firm. "I am not standing down as president if it means four years of President Trump," he said categorically.
The post closed on an ominous note:
Obama even suggested he will barricade himself and his family inside the White House if it means stopping the Trump family from taking up residency there. "I've instructed the Secret Service to use full force in defending the White House from the Trump family. Joe has already expressed his willingness to die multiple times in order to keep them out of here."

When questioned by Howard Stern, Trump seemed unconcerned by the President's stance. "Don't worry, we'll get some of the second amendment people to sort him out pretty quickly."
The post generated enough interest online that the blog and publisher John Egan drew interest from legitimate news outlets like ABC News and NBC News.
"If you read any of the articles beyond a paragraph, you're going to see it's completely made up, totally fake," Egan told NBC. "It's a complete joke."
The site also contains a disclaimer reading in part:
If you clicked here then you are probably doubting the legitimacy of one of our articles. Well friend, those are some good instincts, as the Burrard Street Journal is a satire news, parody and humor website and is for entertainment purposes only.

All Burrard Street Journal and Burrard Street Football articles are satire news and entirely fabricated.
Egan followed that post up with a separate "story" saying that Obama had decided to move to Canada, featuring another doctored photograph of him: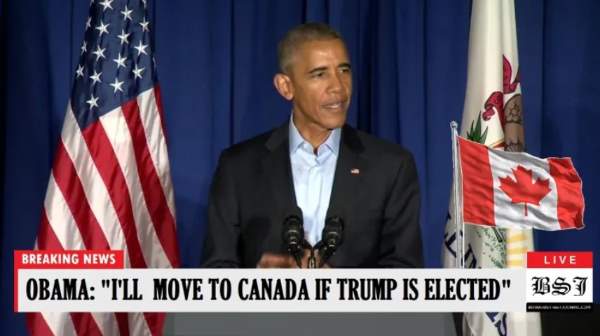 But as the Canadian outlet Global News reported, this post — as so often happens to satirical content — was republished by other sites as actual news. Egan said at the time that he sent copyright infringement notices to more than a hundred websites.
"For whatever reason, a ton of these blogs, these conservative blogs that I now realize were being set up in Europe, they just copied my article," he said.
Egan also said that his blog would focus more on satirizing events in his native Canada.
"I'm kind of burned out from the Trump stuff," he said.
In the U.S., however, "the Trump stuff" only intensified; after serving one term in the Oval Office, he refused to concede after his loss in the 2020 presidential election to Democratic Party nominee Joe Biden and falsely accused the former Vice President's campaign of wanting ballots counted "even if they are fraudulent, manufactured or cast by ineligible or deceased voters."
After the election, his campaign launched a series of more than 50 failed legal challenges to the election result, artificially bolstered by a campaign of disinformation using both social media and broadcast outlets.
Those efforts culminated in the January 6 2021 coup attempt against the United States Capitol, in which Trump supporters staged an attack while attempting to stop Biden's certification by Congress. A subsequent investigation into the attack has highlighted Trump's attempts to pressure both state officials and his own Vice President, Mike Pence, into falsely declaring him the winner.
Update 8/16/2022, 3:32 p.m PST: This article has been revamped and updated. You can review the original here. — ag