Picture of a great white shark attacking a soldier hanging from a helicopter-Fiction!
Picture of a Great White Shark Attacking a Soldier Hanging From a Helicopter-Fiction!
 
Summary of eRumor:
The picture is of a military helicopter hovering over the ocean with a soldier dangling from a ladder.  A great white shark is leaping from the water at the soldier.  Some versions say the picture is from England and has been nominated as the picture of the year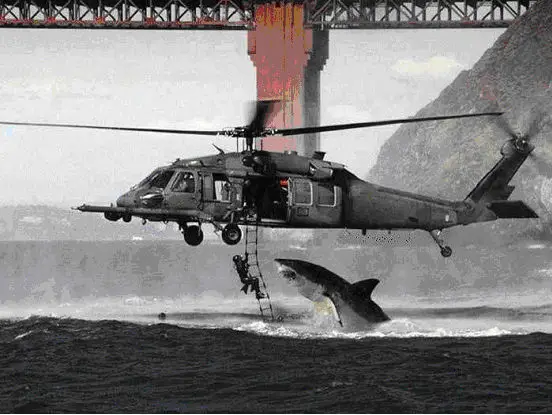 The Truth:
This is a hoax.
The picture is a composite of two separate pictures.



The shark picture
is from Charles Maxwell Video Services in South Africa and is a photo of a great white shark breaching.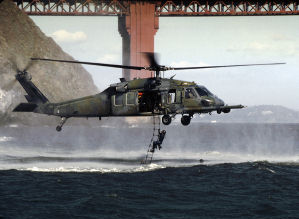 The helicopter is not British, but American.  It is a HH-60G Pave Hawk flown by the California Air National Guard.  Californians will recognize the Golden Gate bridge in the background.  According to the Air Force, this picture was taken by Tech. Sgt. Lance Cheung during a training exercise.  Whoever made the composite reversed the photo.