Despite multiple debunkings and a plea from the military, a well-meaning copypasta hoax has continued to circulate just about every holiday season.
The most common version of the text — which we continued to find online in December 2022 — reads:
When filling out your Christmas cards this year, take one card and send it to this address: A Recovering American Soldier, c/o Walter Reed Army Medical Center, 6900 Georgia Avenue, NW Washington, DC 20307-5001. If we pass this on and everyone sends one card, think of how many cards these wonderful, selfless people, who have sacrificed so much would get. Please copy and post on your wall.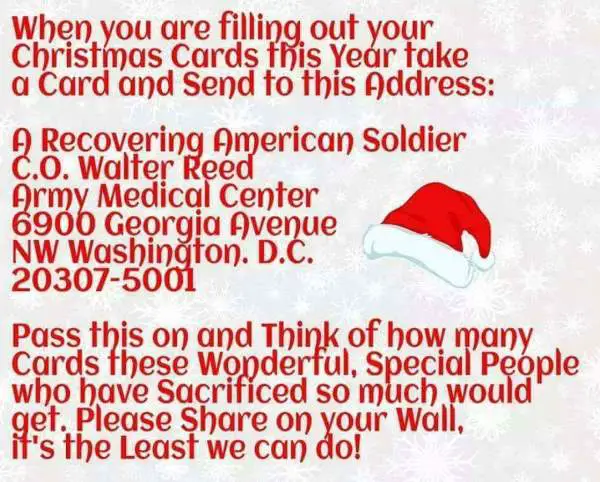 We first spotted this particular meme in 2008; that same year, the Veterans of Foreign Wars debunked its claims:
Walter Reed Army Medical Center officials want to remind those individuals who want to show their appreciation through mail to include packages, letters, and holiday cards addressed to 'Any Wounded Soldier' or 'A Recovering American Soldier' that Walter Reed cannot accept these packages in support of the decision by then Deputy Undersecretary of Defense for Transportation Policy in 2001. This decision was made to ensure the safety and well being of patients and staff at medical centers throughout the Department of Defense.

In addition, the U.S. Postal Service is no longer accepting "Any Service Member" or "A Recovering American Soldier" letters or packages. Mail to "Any Service Member" that is deposited into a collection box will not be delivered.
The Walter Reed Center itself has asked people not to follow the copypasta's request as far back as 2016:
Every year there is a Facebook Post that goes viral asking citizens to send Holiday Cards for service members, veterans and families receiving care to Walter Reed Army Medical Center. Walter Reed Army Medical Center, on Georgia Ave closed more than 5 years ago. Any cards sent to 6900 Georgia Ave addressed to "Any Soldier," or to "A Recovering American Soldier" will be returned to sender because the address no longer exists.
The United Service Organizations (USO) does offer programs giving Americans the chance to send care packages to troops stationed abroad, but also encourages visitors to support their local military communities.
"The holiday season is always an essential time to reach out to service members and the military community to let them know you appreciate their sacrifice and everything they do on the front lines and overseas to keep Americans safe back home," the group says on its website.
The American Red Cross' "Holiday Mail For Heroes" program has been renamed Holidays For Heroes, and advises users "there is no longer a national Holiday Mail for Heroes P.O. Box to which cards are sent. Please contact your local Red Cross office for details."
Update 11/22/2022, 1:36 p.m. PST: This article has been revamped and updated. You can review the original here. — ag