How Local ABC Affiliates Spread the Same Debunked 'Warning' About Fentanyl
A story out of Los Angeles, California that hinged on fearmongering from law enforcement regarding "Halloween fentanyl" in October 2022 served as another example of how television news affiliates can amplify disinformation — all without listing any one person as responsible.
A Los Angeles-area ABC affiliate, KABC, reported on October 19 2022:
Authorities are again warning parents about the possibility of drugs mixed in with candy this Halloween after a big fentanyl bust at LAX.

Someone tried to get through security at Los Angeles International Airport with bags of candy that contained some 12,000 pills of fentanyl early Wednesday morning. The opioid pills were contained inside packages of Skittles, Whoppers and SweeTarts candy.

The drugs were seized by the Los Angeles County Sheriff's Department (LASD) and federal Drug Enforcement Agency agents assigned to a task force at the airport.
The only source listed in the story, which was published under the byline "ABC7.com staff" and aired as a 20-second-long voiceover on at least one broadcast, was a release from the Los Angeles County Sheriff's Department, which included the statement:
With Halloween approaching, parents need to make sure they are checking their kids candy and not allowing them to eat anything until it has been inspected by them. If you find anything in candy boxes that you believe might be narcotics, do not touch it and immediately notify your local law enforcement agency.
However, the story does not mention that, even if fentanyl were to be smuggled inside candy boxes, fears about the substance and other illicit drugs being hidden inside trick-or-treaters' goodies have been debunked for years.
The story also failed to mention KABC's own reporting on footage showing an LASD operative threatening a man at gunpoint while he was being arrested:
— ABC7 Eyewitness News (@ABC7) October 20, 2022
Los Angeles County Sheriff Alex Villanueva, who has a long history of pushing weaponized disinformation narratives, has claimed that activists are using footage of the arrest to "foment division and mistrust of law enforcement." In September 2022, state Attorney General Rob Bonta took control of an investigation Villanueva's department had been carrying out against local oversight officials, a detail that was not mentioned in KABC's reporting.
We contacted KABC seeking comment on the story, which was heavily panned by Twitter commenters, but we did not hear back.
The story aired just over a week after a segment by cable news host John Oliver highlighted research showing how local TV news outlets can make viewers wrongfully believe crime is more prevalent in their areas, despite evidence to the contrary.
"TV news leans hard on 'This could happen to you'-type of crime stories, which are designed to pull you in," Oliver said, before showing footage of several local outlets repeating similarly debunked claims about "rainbow fentanyl." The segment also included a compilation of reporters and anchors repeating the phrase, "police say":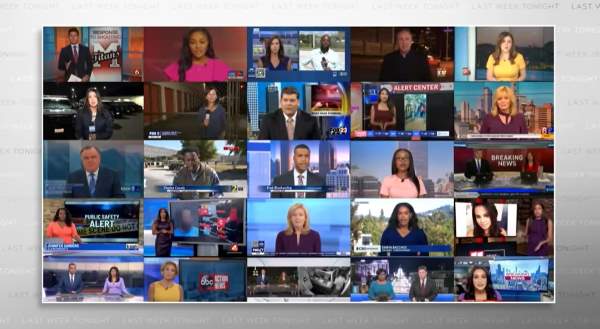 But just as affiliates can spread disinformation and propaganda on air, this type of story can also be circulated to entirely different audiences on their respective websites. For example, we found KABC's report reproduced on sites for affiliates in Bakersfield, Fresno, San Diego, and San Francisco, and even as far away as Chicago — showing the ability of one single story to alter perspectives across the country.
In his segment, Oliver pointed out that while the extrajudicial killing of George Floyd in May 2020 was ultimately ruled to be a murder by a police officer, local news initially picked up the story based off of a statement by law enforcement attributing Floyd's death to a "medical incident" rather than original reporting.
"Repeating that claim by the police is an act of malpractice akin to Walter Cronkite saying, 'JFK died of a headache today,'" Oliver said.
We also contacted several stations highlighted in Oliver's segment seeking comment on his criticism of their police-based reporting. None responded.