On August 6 2021, Irish broadcaster and verified page "RTÉ 2fm" shared a video captioned "The greatest interview of ALL time. A classic ????," reaching five million views on Facebook Watch and purportedly showing footage of a flight attendant who had duct taped an unruly passenger in flight.
A post on RTÉ 2fm's wall was shared over 100,000 times, and it included no additional information other than what was visible in the post and screenshot. Users encountering the video through Facebook Watch's (very efficient) algorithms could be forgiven for thinking the video was, in fact, "flight attendant Alfredo Rivera" providing the "greatest interview of all time":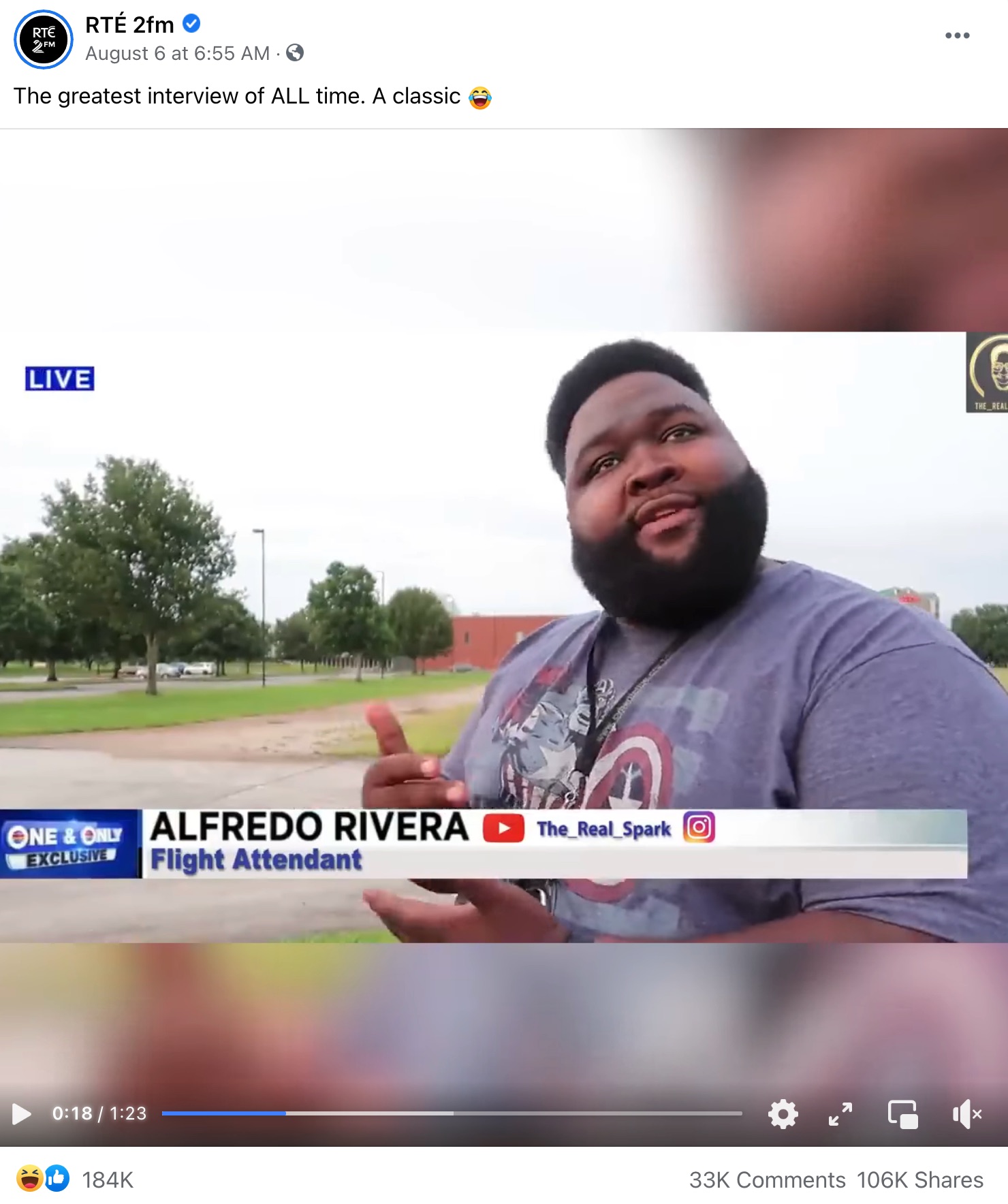 That content was shared by a large broadcast network, on a page verified by Facebook, via content promoted by Facebook through Facebook Watch. Skeptical users might search "flight attendant Alfredo Rivera" and find news stories from early August 2021 about a legitimate disturbance on a flight.
An August 3 2021 WKRC article, "22-year-old Ohio man duct-taped to airplane seat after groping flight attendants," reported:
An unruly passenger was taken into police custody after an incident on a Frontier Airlines flight to Miami.

The situation got so out of hand, the suspect, identified as 22-year-old Maxwell Berry of Norwalk, Ohio, was eventually taped to his seat on the plane.

Alfredo Rivera whipped out his cellphone after a man on his flight from Philly to Miami became unhinged.
That part of the story was true. Furthermore, Alfredo Rivera's name was associated with the viral story, but the very next line read:
"He started to get aggressive and basically attack the male flight attendants," said Rivera, passenger.
A number of other articles addressed the video, which was a parody by YouTube comedian James Bates, also known as "The Real Spark." On August 10 2021, the Miami Herald reported:
According to a Miami-Dade police report, Max Berry had just finished two cocktails and wanted to order another. Things began to go awry when the Ohio man "inappropriately" brushed his cup against a female flight attendant's backside. That's when things really spiraled, and the recent Ohio Wesleyan University grad allegedly grabbed two crewmembers' breasts.

The YouTube star's spoof of a recently aired Local 10 newscast, with anchor Calvin Hughes doing the voiceover, went viral and even has celebrity fans like Beyonce's mom, Tina Knowles, who reposted his hysterical skit. Her caption: "That's one way to control an unruly crazed passenger," with laughing emojis. It's unclear whether Knowles realized the bit was a joke.

Many viewers of the widely shared satirical post thought it was authentic and The Real Spark, as Bates calls himself, was an actual flight attendant as the caption says on the "newscast."
Variety covered the viral video on August 6 2021, and a subsequent BET.com piece transcribed portions of the fake interview:
In the video, The Real Spark poses as flight attendant Alfredo Rivara, saying, "Now understand something. I'm a flight attendant. That means I attend the flights. Sometimes our job has us attending to crazy people. If you push us too far, you're going to have to attend this ass-whooping."

He also included a description of the passenger, "This man smelled like a pack of Marlboro cigarettes, four shots of Everclear alcohol and regret — so I know something's about to go down."

"Rivera" went into hilarious detail about wrapping him in duct tape, "Yeah, we're about to m-m-m-m-m-m-m-mummify your ass now, boy.' So we wrapped him up better than any Christmas present you ever seen."
In the five days between RTÉ 2fm's publication of the viral video and August 11 2021, numerous commenters responded to clarify the "interview" was not real. But the post was never updated to avoid misleading the millions of Facebook users viewing and sharing it.
Facebook Watch's algorithms appeared to favor the mislabeled version to myriad accurate iterations of the video which were correctly labeled "comedy" or "satire." The post also lacked the "fact-checked" window often added to Facebook posts with misleading content. (We have repeatedly addressed misleading or outright dangerous videos promoted by Facebook Watch here, here, and here):
On YouTube, Bates' original video ("Passenger taped to seat after attacking flight attendants on flight to Miami, police say") had 4.7 million views to RTÉ 2fm's 4.6 million. The balance of Bates' content made it clear the schtick of editing regional videos was indicative of satirical content; his channel was not the only one to employ that tactic:
A number of articles accurately labeled Bates' "Alfredo Rivera, flight attendant" video as comedy, and provided context for the story. A misleading August 6 2021 post by RTÉ 2fm did not label it as comedy, and that misleading clip — rather than any that was correctly labeled — was the one promoted by Facebook Watch.